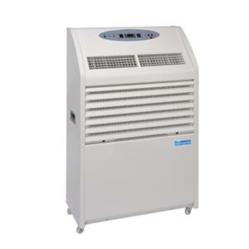 We needed a product that could provide our offshore clients with greater capacities than currently available in the UK hire market but that also met their need for increased energy efficiency
(PRWEB UK) 3 August 2012
Andrews Sykes Air Conditioning Hire has today unveiled its new and unique 60 Hz PAC 22 unit - the only mobile split air conditioning unit in the UK hire market giving 6.5 kw of cooling on a 60 Hz power supply.
The unit has been specifically designed to meet the power requirements of the gas and offshore industries as well as oil rigs and ships with specific applications expected in canteens, server rooms, medical rooms and accommodation. Being robust, easy to operate and the only 60 Hz unit available to hire in the UK, Andrews Sykes anticipates demand to be high.
The new PAC 22 is one of Andrews Sykes' larger and more stylish water-cooled 'Split' portable air conditioning units, allowing for flexibility of location as the room unit and the external condenser unit can be positioned up to 30 metres apart.
Specifications:

The PAC22 has a maximum air flow of 1,359m3/hr with the typical cooled area of 156m3.
The indoor unit weighs 110kg and measures 820 x 390 x 1,245 mm (L x W x H) and has a maximum noise level of 65dBA @ 3 metres.
The outdoor unit weighs 8kg and measures 285 x 565 x 520 mm (L x W x H) and has a maximum noise level of 62dBA @ 2 metres.
The model requires a standard 230 V 1 ph 60 Hz Run 11 A power supply.
Controls: Automatic thermostat
The indoor unit is housed in a simple yet stylish off white casing enabling it to look at home in most industrial environments.
Murray Stewart, Regional Director, Andrews Sykes commented: "We needed a product that could provide our offshore clients with greater capacities than currently available in the UK hire market but that also met their need for increased energy efficiency. It's a very specialist market and one that we know well via work we've undertaken for other Andrews Sykes divisions."
For more information on the 60 Hz PAC 22 visit http://www.andrews-sykes.com
Media contacts
Ali Cort
Browser Media
ali.cort (at) browsermedia (dot) co (dot) uk
0207 099 0945
Notes to editors
Andrews Sykes is the UK's largest specialist hire company with operations in Europe and the Middle East. With over 30 depots and hire centres in the UK alone and 500 dedicated employees worldwide, the company has over 40 years experience in the hire, sale, installation and maintenance of all types of comfort cooling, air conditioning, heating, temperature control and ventilation systems. It serves virtually all industry sectors from small businesses to multi-site operations and international corporations across building and construction companies, industry, retail, banking and finance, leisure and hospitality, facilities management, manufacturing, utilities, oil and chemicals, government, healthcare, the armed forces and emergency services.