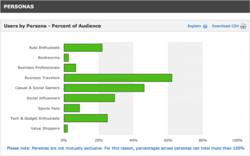 Flurry Personas will help media buyers strongly increase ad spending on mobile app audiences.
San Francisco, CA (PRWEB) August 02, 2012
Flurry, the leading mobile app measurement and advertising platform, today announced the immediate availability Flurry Personas, interest segments compiled from consumer app usage. Flurry has defined over twenty personas including business travelers, parents and fashion enthusiasts. Companies currently using Flurry Analytics can segment and measure their application audiences by interests to build better, targeted features. App publishers using Flurry AppSpot can improve inventory quality and generate higher eCPMs with Flurry Personas. Additionally, advertisers using Flurry AppCircle can use Flurry Personas for campaign targeting to reach their intended audience through mobile.
"Digital media buyers always have a target audience in mind before executing serious ad buys," said Simon Khalaf, Flurry president and CEO. "Without the ability to effectively target across mobile app audiences, they will simply allocate their ad budgets elsewhere. We believe that Flurry Personas will help media buyers strongly increase ad spending on mobile app audiences."
Flurry Personas are computed from aggregated and anonymous analytics usage data collected from the more than 200,000 apps in the Flurry network. Flurry Personas are made up of audiences that spend more than 25 times benchmark usage averages across application clusters that signal clear interest in a given persona category. Combined with other available segmentation and targeting options across Flurry services - including age, gender, device, language and geography - Flurry Personas offers developers, marketers, advertisers and publishers the most advanced audience insight in the mobile app industry.
"Creating audience segments based on recent, heavy usage of key application archetypes, Flurry delivers quality data targeting that helps marketers reach their intended audience with every ad impression," said Rahul Bafna, Flurry senior director of product management.
For launch, Flurry unveiled 23 personas: Real Estate Follower, Business Professionals, Personal Finance Geeks, Business Travelers, Value Shoppers, Catalogue Shoppers, Entertainment Enthusiasts, Music Lovers, TV Lovers, Bookworms, News & Magazine Readers, Casual & Social Gamers, Hardcore Gamers, Social Influencer, Sports Fan, Health & Fitness Enthusiasts, Singles, Fashionistas, Parenting & Education, Photo & Video Enthusiasts, Home & Garden Pros, Food & Dining Lovers and Auto Enthusiasts.
Flurry Personas are immediately available in Flurry Analytics, Flurry AppSpot and Flurry AppCircle. For more information, please visit the Flurry website.
ABOUT FLURRY
Flurry helps companies build, measure, advertise and monetize mobile applications in the new app economy. Flurry operates the industry-leading mobile app measurement and advertising platform powered by app usage insights gathered from more than 600 million iOS, Android and other devices per month. The company is venture-backed with offices in San Francisco, Seattle, New York, London and Mumbai.