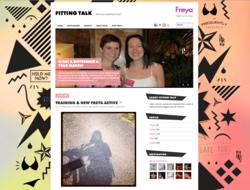 Freya fans really raised the bar this year and the calibre of Blog Star entrants was fantastic.
Desborough, Northamptonshire (PRWEB) August 03, 2012
The Blog Star challenge tested entrants' creativity, style and trend interpretations, asking fans to choose their favourite new AW12 lingerie collection and upload a reflective mood board. The top four entries chosen by Freya's judges were then published on the Freya website, where fans were invited to vote for their favourites.
A great number of bloggers entered from across the world and, in the end, the title went to not one, but two winners. First up is London-based blogger Katie, who edits culture website Run-Riot and co-runs handmade accessory company Gabberdashery. Then there's Nicola from Cheshire, a professional stylist for My Style Companion with a mission to help women look great and feel amazing by discovering the looks that work for them.
Both Katie and Nicola will now make up the Fitting Talk blog panel along with last year's winner Kerry Farrow and blogger Jo Gifford. As well as a year's supply of Freya lingerie and swimwear goodies, Freya's Blog Star winners will also receive a digital camera plus tickets to major fashion events, giving them plenty of material for their posts.
Ann-Marie Manley, Head of Marketing at Freya Lingerie said: "Freya fans really raised the bar this year and the calibre of Blog Star entrants was fantastic. We had such a positive response from fans and received a number of international entries from the USA and Australia. This year we've decided to have two Blog Star winners - both Nicola and Katie received the highest number of votes and it was extremely tight between the two. Both bloggers offer something completely different and both share a love for Freya! We really hope they will enjoy blogging for Freya and hope fans enjoy reading their posts too."
Since launching the Fitting Talk blog, Freya has been overwhelmed by the international readership, with nearly 35,000 page views and 15,000 visits from countries all over the world.
About Freya
Freya creates lingerie, loungewear, swimwear and sports bras especially designed to offer fit and support for women with larger bust sizes. Their range is available up to a K cup and includes balcony, plunge and strapless bras. Based in Northamptonshire, UK, Freya is part of the global Eveden Group, home to a number of lingerie and swimwear brands specialising in larger cup sizes. For more information about Freya please visit freya.com or email press@freya.com