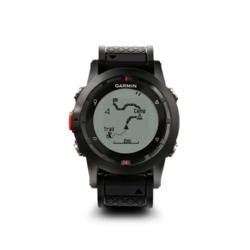 There have been a lot of GPS watches that have been popular with military personnel but never one like this because it will navigate you with maps back to a specific point
Bozeman, MT (PRWEB) August 02, 2012
The Garmin fenix is going to be super popular with military personnel according to the Heart Rate Watch Company. "We already had orders from a couple bases and the fact that these watches have handheld maps, trackback and offer heart rate and training features are making it a hit", says Rusty Squire, President of the Heart Rate Watch Company.
The fenix by Garmin offers just the right combination of features that people in the military need in a altimeter, barometer, compass but it also offers 1,000 way points and 10,000 track points, so it is ideally suited to the field environment, plus the watch is water resistant to 50 meters and rugged. "There have been a lot of GPS watches that have been popular with military personnel but never one like this because it will navigate you with maps back to a specific point", says Squire.
Not Just For Land:
The Garmin fenix can be used to mark specific points in the water as well. "Our tester John Yarington tested a Suunto Ambit in Columbia and found diving reefs with pinpoint accuracy and when he was leaving the dive master wanted to buy it from him", chuckles Squire.
Mountain Tested Tough:
Watches like Garmin fenix are right in their element in rugged mountain environments or the deep jungle, places where people can get twisted around and lost in a heart beat. "Our men and women in uniform go into some of the harshest environments on Earth and this is where a watch like the fenix can save your life", states Squire.
Supporting Our Troops:
"The Heart Rate Watch Company has a long standing tradition of supporting our troops with special military discounts and, if they call our national toll-free at 866-586-7129, we always give a special coupon code to our men and women in uniform", says Squire. He adds, "It's our way of saying thanks for protecting our freedom".
The Garmin fenix will be available for shipping in late August to early September of 2012.