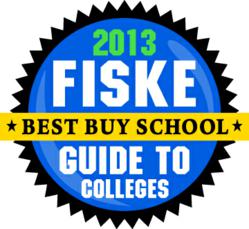 The elite new engineering school, which graduated its first class and won accreditation in 2006, aims to turn out Steve Jobs-style graduates who are not only technically competent, but who can come up with innovative ideas and projects
Needham, MA (PRWEB) August 02, 2012
The 2013 edition of the Fiske Guide to Colleges names Olin College of Engineering a "Best Buy" school, based on the quality of its academic offerings in relation to the cost of attendance. Only 21 private colleges nationwide, and only one other institution in Massachusetts, made the list.
According to the guide, the Best Buy schools offer "outstanding academics with relatively modest prices." The schools chosen for the designation fall into the inexpensive or moderate price category and have four or five star academics. The guide gives Olin five stars for academics and quality of life.
"The elite new engineering school, which graduated its first class and won accreditation in 2006, aims to turn out Steve Jobs-style graduates who are not only technically competent, but who can come up with innovative ideas and projects," notes theguide in its description of Olin.
First published more than 25 years ago, the Fiske Guide has become one of the most respected college guides in the country. Edited by Edward B. Fiske, former education editor for The New York Times, the annual guide selects top schools from around the country based on academic ratings, price category, quality of student life on campus and other factors.