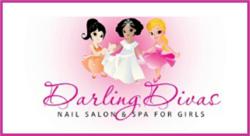 Perfect idea for those who wish to indulge in more than the traditional birthday party
Mary Esther, FL (PRWEB) August 06, 2012
Darling Divas, a trendy nail salon and spa for girls in Mary Esther, Florida, recently announced that spa birthday parties for girls under the age of 16 have increasingly grown in popularity. Spa parties offer a unique alternative to traditional parties.
Darling Divas is a salon and nail spa for girls that aims to promote positive self-image. They stress the importance of natural inner beauty, while pampering them with spa services that enhance outer beauty and confidence. Darling Divas offers manicures, pedicures, facials, and combination packages. They also offer create your own stations featuring "Sugar Scrub Sundae," "Lip Gloss," and "Shimmer Lotion."
Darling Divas also hosts parties for those to indulge in more than the traditional children's party. They offer a feminine selection of spa birthday party packages that pamper the birthday girl and her guests on her special day. The Darling Divas spa's décor creates a girls' perfect party venue, sporting large hot pink high heel shoe chairs, pink counters and displays and sparkly pink fabrics. All birthday parties are held privately in the pink peppermint patty lounge.
"Darling Divas builds confidence and self acceptance in young ladies and encourages them to define their own beauty," said the owner. "A spa birthday party is an innovative alternative to traditional birthday parties." Darling Divas is located on Mary Esther Boulevard right off the coast. They are open seven days a week from 10:00 a.m. until 9:00 p.m. For more information about Darling Divas or to schedule a spa birthday party, visit their website at http://www.darlingdivasfl.com or call (850) 581-0304.
About the company:
Darling Divas is a nail salon and spa offering individual service as well as serving as coordinators of spa theme parties catering to young girls 16 and under; however we also service adults. They are dedicated to providing high customer satisfaction by rendering excellent service, using quality products and furnishing an enjoyable atmosphere at a competitive price/value ratio. They will also maintain a friendly, fair and creative work environment that encourages ideas, fosters confidence and rewards hard work.
Darling Divas' mission is to supply services and products that not only enhance their clients' physical appearance and mental relaxation, but also build a sense of pride in their personal appearance and provide mentorship by way of interaction with Darling Divas' older, experienced technicians. For more information visit their website at http://www.darlingdivasfl.com.