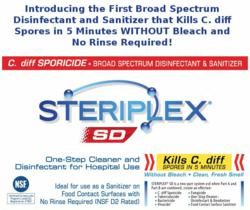 The First Broad Spectrum Disinfectant and Sanitizer that Kills C. diff Spores in 5 Minutes WITHOUT Bleach
Dallas, TX (PRWEB) August 02, 2012
TYSS BioSolutions introduces Steriplex SD, a ready to use non-bleach broad spectrum antibacterial, one-step cleaner and disinfectant. The product is the first non-bleach disinfectant effective for use to kill C. difficile, bacteria (including MRSA), viruses and fungi.
Streriplex SD is ideal for a wide variety of disinfecting and sanitizing solutions ranging from medical to food service and hospitality. Initially, the product is available both as a liquid formula and cloth wipes.
Steriplex SD is for use in the disinfection of hard, non-porous surfaces in hospitals, first responder vehicles, restaurants, schools, vet clinics, laboratories and similar environments. The solution kills bloodborne pathogens and microbes, including HIV, MRSA, Norovirus Virus, and the Spore Form of Clostridium difficile* in 5 Minutes. It is also ideal for use as a sanitizer on food contact surfaces that do not always require a rinse (NSF D2 Rated) as it kills 99.999% of germs in 30 seconds without leaving grit or soap scum on the surface.
As the first effective disinfecting and sanitizing alternative to traditional bleach-based solutions, Steriplex SD is an industry changer. Unlike with bleach, prolonged and frequent contact with skin will not cause an allergic reaction as the product is neither a skin irritant nor a skin sensitizer. In addition, Steriplex SD is non-fuming and non-corrosive to skin or eyes.
About the Company: TYSS BioSolutions is a global provider of a full portfolio of sanitizing, disinfecting and decontamination solutions for commercial, industrial and government applications.