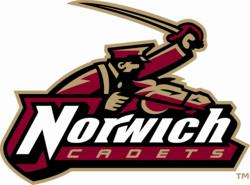 Northfield, VT (PRWEB) August 02, 2012
Rugbymag.com has announced two Norwich standouts as Collegiate All-Americans for the 2011-12 season.
The 24 players selected to the overall Rugbymag All-American team come from 13 different schools, primarily from Division I rugby.
Prop Baylee Annis (Saranac Lake, N.Y.) and wing Joya Clark (Scotia, N.Y.) earned selection for their success as sophomore players on the National Champion Cadets. Both players earn their first All-American honors and both players have recently been added to the U.S. National Team player pool.
Annis was a stand-out prop for Adirondack in the high school league. She comes from a passionate rugby family and began playing at a young age. As a Cadet, Baylee has been a force from day one, combining a powerful point of contact with excellent scrimmaging skills and outstanding field awareness. In two seasons at Norwich, Baylee has amassed 44 caps (games played) and has scored seven tries. Two of her most significant tries both came in the National Championship game, and remarkably, she accomplished this in just 40 minutes of play.
Clark was also a standout player in the high school league, but played for the Saratoga Mustangs – arch-rival of Baylee's Adirondack side. Clark was tabbed as a top national recruit early in her high school career as she lit up scoreboards with high-speed backfield runs. At Norwich, Clark has played a multitude of backfield positions, but has found most of her success on the wing. Rib-rattling tackles, chip and chase kicks, fancy footwork and superb passing highlight Joya's wide variety of technical skills. Joya has amassed 45 caps and 46 tries in her first two seasons in the Maroon & Gold. In addition to her success on the 15's field, she was an All-Tournament selection as part of the National 7's Championships last December.
Annis and Clark join Sybil Taunton ('08) and Hannah Bushey ('12) as Norwich's historical class of All-American selections. Both Taunton and Bushey were USA Rugby All-Americans – a list that will be released soon for the 2011-12 season.
Norwich University is a diversified academic institution that educates traditional-age students and adults in a Corps of Cadets and as civilians. Norwich offers a broad selection of traditional and distance-learning programs culminating in Baccalaureate and Graduate Degrees. Founded in 1819 by Captain Alden Partridge of the U.S. Army, Norwich University is the oldest private military college in the United States of America and the birthplace of our nation's Reserve Officers' Training Corps (ROTC). http://www.norwich.edu