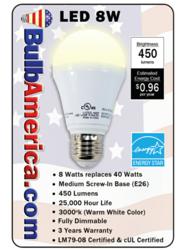 BulbAmerica, the largest online source for quality lighting fixtures and light bulbs in the United States is already selling these LED light bulbs for as little as $11
Brooklyn, NY (PRWEB) August 02, 2012
In a report by the Lux Research Energy Electronics Intelligence service titled 'Cheaper, Brighter, Cooler: The Need for Cost Reduction Past the Package, it is estimated that the overall costs of the central LED package will fall by more than 70 percent to $2.14 in the next decade. According to Lux Research, a shift in technological innovation towards areas such as thermal management, drivers, and optics will play a very important role in halving the prices of LED bulbs to $11.06 in 2020. Furthermore, the costs of central LED packaging will constitute 19 percent of the bulb costs in 2020. BulbAmerica, the largest online source for quality lighting fixtures and light bulbs in the United States is already selling these LED light bulbs for as little as $11. Yes, they are currently available.
Mainstream adoption for LED technology based light bulbs has been slow to develop though it offers the dual advantages of lifetime energy and maintenance savings. This is because LED light bulbs are considerably more expensive than the alternative; most of them cost at least $20 each or often double that. Lux Research Analyst and the lead author of the report, Pallavi Madakasira says, "Today's system technology solutions fall short of the dramatic cost reductions needed to mirror the LED package" adding that "Existing alternate solutions are ineffective and uneconomical and LED lighting is not standardized by any means and potential disruptions to the component stack abound."
A lighting expert at BulbAmerica.com says, "In a market still dominated by incandescent and CFLs (compact fluorescent lamps), cost is the most important factor when it comes to LED purchases" adding that "However, to drive overall costs lower and ensure adoption in the market, other system costs need to keep pace." There is a variety of opportunities available in terms of the development of system technology solutions and technology innovation. Dimmable drivers that are priced at a premium to non-dimmable ones lead to energy savings as they enable precise control of the light output. These drivers would boost the overall performance of LEDs and innovation in this area is expected to bring in a cost saving of around 1 percent in 2020. Analysts at Lux Research studied the key cost stack components and technologies available in a 60 watt incandescent equivalent LED bulb that would accelerate cost cuts. Their research showed that about 5 percent of the total cost of a 60 W equivalent LED bulb is accounted by secondary optics account. So, improving the LED's ability to collect more light from primary optics and innovation in improving the shape of the beam may also produce the desired results. After overall system design, the biggest focus area is thermal management, but no innovation is expected in this area until 2017.
Since 2003, BulbAmerica has been offering their customers with cost effective and quality products that include fluorescent, halogen, LED, CFL, and incandescent bulbs, projector lamps, and various LED lighting options including LED strips. For more information about the light bulbs and lighting solutions that they offer at BulbAmerica and to buy the Platinum Light Bulbs product line that is available exclusively at their online store, visit http://www.bulbamerica.com or call 1-877-650-0775.