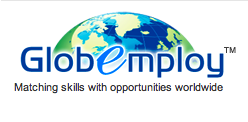 Globemploy™ matches potential employers with those job seekers who match their exact requirements.
(PRWEB) August 06, 2012
For years now, searching for a new career online has involved the same tired old process. Companies who require new talent will construct a job description, post it on the same old job sites, and wait for the right candidate to find them.
Motivated hiring agents must take on the task of sorting through the thousands of resumes also posted on these sites; but the chances of finding that one perfect employee is essentially slim to none. The results are poor and the process is tedious.
But all this is about to change. Globemploy™ has developed an intuitive employment solutions platform that is designed to help both companies and job seekers locate their perfect match. Through a revolutionary new three step process, Globemploy™ identifies the unique skill set and experience of each potential candidate and matches them with the best-suited openings available around the world.
Identifying each candidate's relevant skills and aspirations such as education, years of experience, language fluency, and desired position and location, Globemploy™ matches potential employers with those job seekers who match their exact requirements. This eliminates the enormous waste of time and lack of success in the current hiring process, saving both the company and candidate valuable time and effort.
Once a match has been completed, Globemploy™ offers employer's access to their invaluable MFCA, (Multi-Factor Candidate Assessment) test. This unique tool is a priceless pre-employment assessment tool based upon emotional intelligence that can be used to test all potential candidates or just those selected by the employer. This ensures a good fit based upon experience, skill set, values and multiple personal factors.
Once the list has been narrowed to only the most qualified candidates, Globemploy™ also offers employers the option of online interviewing. This means that any candidate from across the globe can be interviewed as if they were just across the street. By allowing unprecedented access to the global labor market, Globemploy™ assures its clientele that they are selecting from the best candidates the world has to offer.
As technology continues to make the world a smaller place, companies with a global span and influence will take the lead in all aspects of business. By opening a company to an entire world's worth of talent when it comes time to hire, Globemploy™ can help any firm stay ahead of the competition.