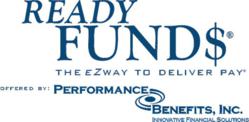 Centennial, CO (PRWEB) August 07, 2012
"At Efficient Forms, we look to our clients to guide us in where Efficient Hire needs to go next. Our clients would like to eliminate the cost of generating and distributing paper checks. Integrating payroll card programs into Efficient Hire is a high priority for many of our clients. After doing an extensive review of the available products in the market, we decided that the ReadyFUND$ program was the right fit. Adding a no-cost-to-the-client integrated paycard program with such an extensive list of features was the perfect match for Efficient Hire." Todd Fenske, VP of Sales, Efficient Forms.
"We are pleased that Efficient Forms selected ReadyFUND$ as their partner to provide an integrated payroll card program to their clients. ReadyFUND$ has worked hard to develop a best in class solution for a variety of industries, such as quick service restaurants, that is flexible and easy to implement and administer", said Tim Birk, President and CEO of ReadyFUND$ Payroll Cards.
A product of software company Efficient Forms, Efficient Hire is a proprietary, web-based solution used to streamline the employee onboarding process. Instead of filling out mountains of redundant paperwork, newly hired employees use an online interactive question and answer process to complete all of a company's new hire paperwork. The solution handles all local, state and federal tax forms and is configured around each individual client.
Once the employee has completed the process, all of their information is stored in the online "filing cabinet," reducing HR department clutter. Other important documents, such as driver's licenses and social security cards, are able to be captured into the system — keeping all documentation and paperwork together. An intuitive dashboard and customizable alerts make sure that paperwork is complete and filed in an appropriate amount of time.
Efficient Hire is a leading product in employee new hire onboarding and integrated Work Opportunity Tax Credit (WOTC) screening and processing. With the addition of ReadyFUND$ payroll card programs, Efficient Hire continues to grow into the complete onboarding system.
About ReadyFUND$:
Established in 2005, ReadyFUND$ is offered by Performance Benefits, Inc., a pioneer in providing innovative financial services that make peoples' lives easier and help employers improve their bottom line. The ReadyFUND$ Premier Access Payroll Card and eZsuite of Financial Services enables businesses to convert 100% of their employees to electronic payroll and a "greener" way to pay. For more information visit: http://www.readyfunds.net
About Efficient Forms and Efficient Hire:
Founded in 2004, Efficient Forms, LLC is a privately-held Colorado company who specializes in automated electronic solutions for dynamic and cost-effective forms completion, data collection and process workflow. Their Transaction Origination Platform powers the company's various industry leading SaaS services by allowing its customers to capture data for multiple forms by using an online one-time-entry "interview." Its market leading solutions Efficient Hire and Efficient WOTC automate the new hire onboarding process for all types of employers.