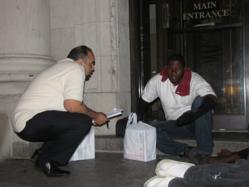 "The fight to get veterans off the streets is far from complete. We will be coming back again and again until we are successful in our goal of not just easing veteran homelessness, but eradicating it altogether." GI Go Fund Executive Director Jack Fanous
(PRWEB) August 02, 2012
The GI Go Fund, an organization that works to address the plight of veteran homelessness through innovative solutions, completed "Midnight Mission for Homeless Veterans" in several major cities throughout the Northeast United States in an historic week of assisting homeless veterans. The Midnight Missions were conducted throughout the I-95 corridor, beginning in Newark, NJ on July 26, followed by Philadelphia, PA, on July 30, Baltimore, MD, on July 31, and ending in Washington, DC on August 1.
"Midnight Missions for Homeless Veterans" is a nationally recognized emergency housing program which involves teams of volunteers going out before dawn to areas with high volumes of veteran homelessness to provide food, clothes, hygiene supplies, as well as emergency medical assistance and benefits assessment by the Department of Veterans Affairs (VA). In addition, the volunteers collect critical information to connect veterans to housing through the HUD-VASH program, which provides veterans who are living on the streets housing vouchers that give them the chance to find a home of their own.
Since 2008, nearly 38,000 HUD-VASH vouchers have been awarded to help veterans find homes, serving as an integral part of fulfilling the pledge set out by President Obama and the VA to end veteran homelessness within five years.
The GI Go Fund has been conducting "Midnight Missions for Homeless Veterans" for nearly two years, establishing a 21st century solution to locate homeless veterans and fulfill the President's goal. This unique and innovative method of addressing veteran homelessness has already received national recognition, as it was recently featured on ABC's hit reality show "Secret Millionaire".
Newark Mayor Cory Booker, who established an historic partnership with the GI Go Fund in 2008 by creating the first ever nonprofit run city Veterans Office, said the group's expansion to other cities is critical in providing aid to homeless veterans nationwide.
"All of the members of the GI Go Fund Team are heroes. They have established a cutting edge, innovative, unique model for service delivery," Booker said. "These extraordinary city partners have created a national model that should be replicated."
Mayor Booker's feelings were echoed by U.S. Senator Robert Menendez (D-NJ), who serves as Chairman of the Senate Banking Subcommittee on Housing, Transportation, and Community Development, which helps oversee the operation of the HUD-VASH Program. GI Go Fund Executive Director Jack Fanous testified before his committee in 2009 to discuss veteran homelessness and his vision on what must be done to address the needs they face, one that is being successfully implemented three years later.
"Veterans are deservedly among the most respected and revered members of this nation, but we need to do more than salute them for their duty," said Menendez. "I salute GI Go Fund's efforts to assist our homeless veterans and by sharing their efforts, it's my hope the rest of the country will follow GI Go Fund's lead. We must do everything we can to ensure that the men and women who fought to defend our homeland never know the pain and suffering of homelessness."
After the Midnight Missions were complete, Fanous stated that although the events were successful in assisting homeless veterans, they also showed that the problem of veteran homelessness in these other cities was far greater than he initially anticipated.
"The fight to get veterans off the streets is far from complete," said Fanous. "We understood that these cities were struggling with veteran homelessness, but the number of homeless in these cities was eye-opening. It is clear that our country is suffering from a homeless veteran epidemic, something that cannot be fully addressed through individual events. We will be coming back again and again until we are successful in our goal of not just easing veteran homelessness, but eradicating it altogether."
The first "Midnight Mission for Homeless Veterans" of this run in Newark, NJ was covered by Fox News, seen here.