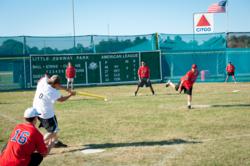 New Bedford, MA (PRWEB) August 02, 2012
Mayor Jon Mitchell proclaimed July 21, 2012 SLAMDiabetes Day in New Bedford, Massachusetts while about one hundred Wiffle® ball fanatics took the field in SLAMDiabetes' custom traveling stadiums to issue proclamations of their own during a day of hard-fought competition and outdoor fun. In all, the SLAMDiabetes Bay Sox Classic raised almost $16,000. Net proceeds will fund public awareness campaigns for T1D, camperships to children suffering from Type 1 Diabetes (T1D), and critical research to find a cure for this lethal disease.
The Bay Sox—whose lineup was comprised of staff from the minor-league organization bearing the same name—won the tournament, edging out the Acushnet Wifflers in the championship game.
The Acushnet Wifflers' road to the tournament championship was not an easy one, and in order to advance, the team had to call on skills not typically utilized in a Wiffle ball game.
After their semi-final game with the Gluten Mutants ended in a tie the teams attempted to break the tie with a home run derby, but neither of the evenly-matched teams was able to outscore their opponent. Per the Official SLAMDiabetes Wiffle® ball rulebook, the tie was broken by a wheelbarrow race around the diamond which crushed the championship hopes of the Gluten Mutants.
The SLAMDiabetes Bay Sox Classic featured more than just Wiffle® ball games in replica stadiums like Fenway Park. The tournament featured a midday Home Run Derby pitched by former Red Sox great and current Bay Sox manager Rick Miller, a kids' batting derby, grub provided by local food vendors, special activities for kids, raffle of local items including an autographed baseball from the Bay Sox, and a baseball bat autographed by Red Sox Hall of Fame pitcher Bill Lee as the Home Run Derby trophy.
Michael Rock of FUN107 emceed the tournament's opening ceremonies as the guest of honor and additional proclamations were issued by US Senator Scott Brown (R-MA) and Massachusetts State Senator Mark Montigny.
SLAMDiabetes has one final Wiffle® ball tournament scheduled for the summer 2012 season, in Providence, Rhode Island, along with a growing schedule of tournaments for 2013.
SLAMDiabetes will host the Rhode Island Classic in Providence on August 11. In February, SLAMDiabetes' 2013 season will begin on short and rest reaching more cities that ever, with tournaments from Florida to Vermont—all to raise awareness and funds to combat T1D.
Stay tuned to http://www.SLAMDiabetes.com, Facebook, and Twitter for announcements of celebrity guests, special activities, and important tournament announcements. Find and follow SLAMDiabetes on social media at facebook.com/slamdiabetesnow and on Twitter at twitter.com/slamdiabetesnow.
###
SLAMDiabetes is working to raise public awareness of T1D (Type 1 Diabetes) through sports, entertainment and education while raising funds for camp scholarships for T1D kids and research for a cure. T1D is a lethal autoimmune disease that afflicts millions of children and adults. SLAMDiabetes works to make life safer, easier, healthier and longer for those with T1D. Let's SLAM T1D together! http://www.slamdiabetes.com