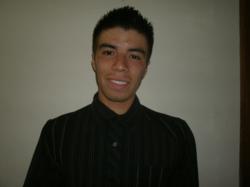 "CAA really helped us. There is nothing as useful as having someone show you the right path."
Arlington, TX (PRWEB) August 04, 2012
Gerardo Rubio of Rockford, IL received $750 as the first prize winner in the College Admissions Assistance (CAA) Class of 2012 Scholarship drawing. Gerardo went back and forth between two colleges, finally deciding on Milwaukee School of Engineering (MSOE) because he found it to be the best fit for him.
"It is closer to home and the campus is more comforting than the other I was considering," he said. "The city of Milwaukee is a great environment to learn in."
Being a first-generation college student, it was not easy for Gerardo found it difficult to narrow down his list of schools. He said that speaking with the CAA coaching team helped him to decide which colleges he was best suited for. Gerardo said he also owes a lot to his father—as the person who had the strongest influence on him.
"My dad has always guided me," he said. "Since I have such a passion for sports, I would lose focus on the important things like my grades. My dad would help me to find that focus again."
Gerardo and his father share a passion for sports. He said he is planning to try out for the soccer team at MSOE but would be happy participating in any sports-related activity while in school. But even with sports opportunities to consider, Gerardo said he is most excited to meet all the different people and explore the diversity of the campus population.
Gerardo said his father was a lot like him but did not have anyone guiding him down the right path. Together they were able to find the right direction with the help of the College Admissions Assistance college-planning process and coaching team. "Because we have never gone through this process before, we really had no idea what we were doing," he said. "CAA really helped us. There is nothing as useful as having someone show you the right path."
Gerardo has a passion for math and science, which is why he chose bio-molecular engineering as his major. "I wanted a career dealing with math and science but couldn't decide on the type of engineering," he said. "After attending a seminar on bio-molecular engineering at MSOE, the speaker helped me decide that it was the best choice for me."
Gerardo feels relaxed and focused at this time and would like other college-bound students to be sure they keep education as their first priority. "I would tell students to make sure to retain the information instead of just completing the work," he said. "Be yourself and don't stress out. It is not as bad as it may seem."
The entire CAA coaching team is confident that Gerardo will stay focused on his goals and is excited about his future in engineering.
About the Company:
College Admissions Assistance is a comprehensive college-planning service that has helped thousands of students prepare themselves for college--from discovering a great career, achieving admission to the right college, and enjoying the best financial start in life. The company's ultimate mission is to help each student live out their unique purpose in life by helping them get started with the right college education.