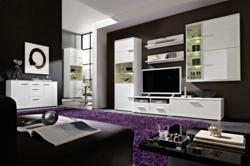 Furniture In Fashion has seen a surge in the sales of its living room furniture even though UK is experiencing recession.
(PRWEB UK) 6 August 2012
FurnitureInFashion has seen a surge in the sales of its living room furniture even though UK is experiencing recession. The purchasing power of people has suffered during the economic downturn but they haven't limited their spending on living room furniture. As the owner and Managing Director of FurnitureInFashion Asad Shamim says that this continuous and sustainable spending on living room furniture is due to extremely affordable prices at the FurnitureInFashion. FurnitureInFashion is known for being the cheapest online retail stores in the UK with a largest furniture catalogue. Another reason shared by Mr. Asad about the sustainable spending on living room furniture is the importance of living room. He said, "One of the most visited places in our homes is definitely a living room. It is where a family spends maximum time to watch movies together and communicate.
Living room is a place where we accommodate guests and we normally end up here to relax and sometimes sleep. Because of these factors, people take extra care to keep their living rooms updates, alive and refreshing. For this reason, they keep changing the décor of the living room or keep adding any new and comfortable furniture item to make their living rooms perfect for family and guests."
FurnitureInFashion presents the largest collection of living room furniture including leather furniture, soft furniture, storage solutions, coffee tables, side tables, console tables, wall art, sideboards, display cabinets, stools, table sets, room dividers, clocks, vases, decorative mirrors, novelty collection, frames, storage bench seat and much more. FurnitureInFashion provides every furniture item for living room and at extremely affordable prices.
The prices at FurnitureInFashion have been able to win the confidence of people as the affordability is encouraging the people of UK for more spending. Mr. Asad said, "In creating a living room, people need two things: buy high quality furniture and at cheapest prices. FurnitureInFashion offers both attributes to its customers. We design our products in a way that they will definitely mirror you as a person and your delicate fashion sense."
FurnitureInFashion offers a very fashion savvy and high end living room furniture range. It adds contemporary, modern and retro look in a living room which has been a hit. FurnitureInFashion has designed its living room range by infusing the public consciousness with adventurous notions in decorating. The bold colors and contemporary forms add whimsy and fresh cheerfulness to home interiors. Mr. Asad says, "Considering the demands of our customers and what they demand in their lives, our living room furniture range is no wonder so appealing.
"The color rang we provide are reminiscent of a box of crayons and make adults nostalgic about their childhood," Mr. Asad further added, "The designers at FurnitureInFashion have tried to design products by focusing on "personal style". The living room range we provide provides ample pieces and accessories that can be coordinated in unique decorating styles. You can create either a traditional look or a luxurious yet laid-back ambiance in your living room. All our living room furniture products have generously prorportioned designs that feature gentle angles and fluid curves that will follow the shape of your body to enhance ultimate comfort and support." He also added that the living room settings of FurnitureInFashion have also seen consistency in sales due to their cheap prices and quality designs.
About FurnitureInFashion
FurnitureInFashion is an online retail store located in the UK. It suppliers over 7000 furniture products including items for living room, dining room, bedroom, kitchen, hallway, bars and office. The company supplies furniture directly from its warehouse based in Germany to its customers. For further details and information visit: http://www.furnitureinfashion.net