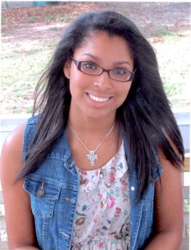 "Keeping up with your education is really important. You just need make sure you are doing the right things and getting involved while in school."
Arlington, Texas (PRWEB) August 04, 2012
Joann Sinclair, of Friendswood, TX, is the $250 third prize winner of the College Admissions Assistance (CAA) Class of 2012 Scholarship. Joann is following her step-mother's footsteps and planning to attend Stephen F. Austin State University in the fall. She credits the beauty of the campus in helping her make that final decision.
"I love nature," said Joann. "There are so many trees on the campus and that really captured my attention."
As with most incoming freshman, Joann is very excited to attend college in the fall and is planning to join in various activities and clubs. She is most looking forward to being independent and to gain success by accomplishing her goal to become a nurse like her grandmother.
"My grandmother and I were very close," she said. "She was a very compassionate and caring woman. I knew nursing was what I had to do after she passed away."
Even though her grandmother was the strongest influence on her career decision, Joann said CAA helped solidify that decision through the help of the career assessments and direction from her CAA Coaches.
"It really helped," she said. "The CAA coaches always helped me understand my next steps and really helped me to stay organized."
Joann says her family is very proud of what she has and will continue to accomplish. Having support from family and CAA helped Joann reach her college and career destination. She believes that staying involved will help other students accomplish their goals as well.
"Keeping up with your education is really important," she said. "You just need make sure you are doing the right things and getting involved while in school."
The entire CAA coaching team is very proud of Joann and is very excited for her. She has so much to look forward to in her college career!
About the Company:
College Admissions Assistance is a comprehensive college-planning service that has helped thousands of students prepare themselves for college--from discovering a great career, achieving admission to the right college, and enjoying the best financial start in life. The company's ultimate mission is to help each student live out their unique purpose in life by helping them get started with the right college education.