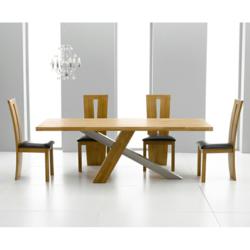 Furniture In Fashion announces it's ready to invest £1 million into its new Oak Furniture Ranges
(PRWEB UK) 8 August 2012
FurnitureInFashion is continually adding new products into its extensive collection of furniture and now announced that it is ready to invest £1 million into its new product line of Oak furniture ranges. The new Oak furniture ranges comprise of dining table and chairs, TV stands, coffee tables, sideboards, beds and several other essential home solutions. All these items will be made from 100% oak without any amalgamation of laminates or veneers. FurnitureInFashion is maintaining a perfect catalogue comprising of traditional, contemporary and modern home items in wood, plastic, aluminum, metal and other materials except for oak furniture range. By investing in oak furniture ranges, FurnitureInFashion will be able to cater more customers.
Asad Shamim, the MD of FurnitureInFashion said, "FurnitureInFashion wants to offer its customers the most extensive range of oak furniture. We are focusing on delivering fantastic quality in oak furniture ranges at affordable prices. We want our oak furniture to become part of our customers' life. From giving a comfortable sleep to our customers to a lavish dining experience, we plan to penetrate the lives of our customers with our designer Oak furniture ranges."
FurnitureInFashion is going to invest in purest oak furniture ranges. Many high street outlets and online stores offer part veneer or part solid oak furniture but FurnitureInFashion is committed to provide 100% solid oak at its finest quality. The oak furniture ranges at FurnitureinFashion will have a contemporary feel that can blend style with traditional décor. The oak furniture will include various designs and styles to provide comfort and perfect harmony with both modern and traditional homes. Asad Shamim said, "We really like the new oak furniture designs that our designers have prepared and we think that our customers will like the oak ranges as well. We have tried to make oak furniture ranges multifunctional by adding maximum storage compartments. This will not only solve the storage problem but also add a beautiful oak piece in every room."
Crafted from 100% solid oak, only the graded and finest selected oak timber is going to be used in the construction of entire oak range. The oak furniture is going to be priced by considering the market price structure and other costs. FurnitureInFashion aims to provide an extensive oak furniture range at cheapest prices so that all customers can enjoy the luxury of stylish oak furniture. Asad Shamim revealed about his new oak extension," We will continue to launch new oak products throughout 2012. It's our aim to offer an extensive range of products to our customers. These ranges will suit all budgets and tastes." He also added, "We want our oak ranges to become part of our customers' life. Our oak ranges will become the center stage of many occasions in our customers' homes from birthday buffets, Christmas dinners to dinner parties. Our oak ranges will stand the test of time and add exquisite touch in any home."
FurnitureInFashion has only one aim, to provide 100% solid hardwood furniture to its customers with no chipboard, veneers and mdf. Each piece of oak will go through a lengthy process of being kiln dried and seasoned until it is ready to be crafted. The oak will be given a finish with clear wax which will expose the natural grain of the oak wood. Thanks to the philosophy of great products at affordable prices, FurnitureInFashion aims to become one of the UK's leading oak furniture retailers as well.
About FurnitureInFashion:
FurnitureInFashion is a UK based online retail store established since 2008. The company supplies over 7000 contemporary, traditional and modern furnitur e and offers an extensive range of designs and styles. For further information and details, visit: http://www.furnitureinfashion.net