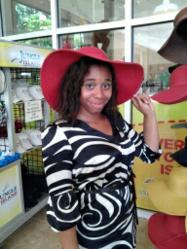 "I'm so glad to be a part of the 98 percent of CAA students who are accepted into college!"
Arlington, Texas (PRWEB) August 04, 2012
Miami, FL resident, Eugenie Elie, was awarded $500 in the annual College Admissions Assistance (CAA) scholarship drawing available to graduating seniors enrolled in the CAA program. Eugenie is no stranger to winning scholarships. She was also awarded a scholarship by the Posse Foundation, which covers tuition at her first choice of schools, Mount Holyoke College. Even though financing college can be challenging, she is keeping a positive attitude.
"I am always searching for scholarships," she said. "I have written letters to and visited many potential sponsors. I have also put up a website advocating myself to other potential sponsors to help earn more scholarships."
Eugenie is very excited about starting college in the fall and plans to pursue a career in Nursing Administration; she also hopes to research music therapy. Along with a double major in nursing and business, she plans to participate in several related activities while in college and is very impressed with Mount Holyoke's environment.
"I was looking for a new experience," she said. "Mount Holyoke has a small but diverse population that allows for women's empowerment and loads of cultural experiences. I am just in awe of the beauty and atmosphere."
Being a first generation college student, Eugenie realizes how proud her family is of this accomplishment. She said that, since she and her family have never been through the experience of college admissions, having College Admissions Assistance there to keep her on track with timely email reminders made the college planning process much easier.
"Sometimes I was scared, but it was a healthy scared," she said. "I used the website tools and the reminders really kept me 'in check.' I'm so glad to be a part of the 98 percent of CAA students who are accepted into college!"
Eugenie feels that she owes credit to everyone involved in her life, even if they are only an acquaintance. Her life is impacted by new experiences every day, and thinking back to when she started planning for college, she says she would only change her state-of-mind.
"I started planning for college in June of my junior year," she said. "I was determined to be the first to apply to all of the colleges on my list, which didn't allow for much flexibility; but you never really know what's going to happen no matter how much you plan ahead."
The entire CAA coaching team wishes Eugenie the best of luck in all her endeavors over the years and is happy to know that they were there to help her set her college and career goals.
About the Company:
College Admissions Assistance is a comprehensive college-planning service that has helped thousands of students prepare themselves for college--from discovering a great career, achieving admission to the right college, and enjoying the best financial start in life. The company's ultimate mission is to help each student live out their unique purpose in life by helping them get started with the right college education.