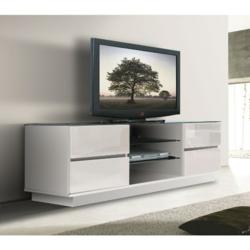 (PRWEB UK) 9 August 2012
After the increasing demand of the EH708 TV stands, FurnitureInFashion has doubled the production of this exclusive TV stand for its customers. The company is delighted to announce the increase in production of EH708 TV stands as this designer TV stand has added extra depth to an already large selection of entertainment ranges at FurnitureInFashion. EH708 TV stand has been by far the best seller of FurnitureInFashion which has encouraged the company to produce more in order to cater the increasing demand for this TV stand. Although FurnitureInFashion has a great entertainment range with some of the finest TV stands but EH708 has earned a great reputation for the company.
The MD of FurnitureInFashion, Asad Shamim said, "This unit is not only ideal for residential use but it can also make a significant impact in an office as well. It comes with shelves and other compartments where different objects can be placed and stored. The EH708 TV stand can support a large TV very conveniently. These features made this particular stand very popular among our customers."
EH708 TV stand was available in black and white colors. However FurnitureInFashion has added two more colors including grey and grayish black in its existing black and white series of EH708. The EH708 TV stand model comes with four drawers with fronts in high gloss white/black. The glass used in this TV stand is tempered. The shelves and the glass top are made of the tempered safety glass in order to keep the stand from any accident. This stand is suitable for up to 60" Plasma/LCD TV and can make a stunning piece of entertainment furniture in any living room. It has a lots of neat storage space and is made of high quality Melamine engineered wood for long lasting life. Mr. Asad said, "Any television placed on the EH708 Plasma TV stand will impress anyone for making a contemporary style statement. This particular TV stand has a large section in the center with two shelves where you can store your audiovisual equipments. There are two more drawers on each side for providing more storage. Another fantastic feature of this TV stand is the cable tiny hole behind it which will keep the wiring clutter off the stand. This stand also has adjustable shelves."
FurnitureInFashion has a very exciting, unique and largest range of entertainment ranges. It comprises of Plasma TV stands, LCD TV stands, DVD/CD racks, wall brackets and Hi-FI stands. All these items are available in different styles and designs with extremely high end functionality. Due to increase in demand of its entertainment ranges, FurnitureInFashion has expanded its entertainment range which has made the company the largest supplier of TV and other entertainment stands. The entertainment ranges at FurnitureInFashion are available at very affordable prices.
Asad Shamim said, "The Plasma and LCD TV stands at FurnitureInFashion have been designed in a way that they are ideal for use in many business environments and home. Our customers can find multiple designs and colors in our TV stand range at very affordable prices. We provide extra care with our delivery service for these stands in order to avoid any breakage. We are determined to extend our entertainment range even more in order to target more customers." He also added that the philosophy of FurnitureInFashion is to provide the best product with exclusive delivery and customer service along with after sales service.
About FurnitureInFashion
FurnitureInFashion is an online retail store located in the UK and supplies over 7000 products with a free delivery service in the UK. The company has the largest collection of entertainment ranges and other furniture items including furniture for living room, dining room, bedroom, hallways and office. For further information and details, visit: http://www.furnitureinfashion.net