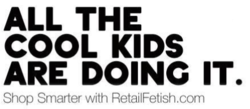 Giving additional categories allows our visitors to find relevant deals even faster. We're working hard to improve the experience on the site daily and this was a critical first step.
Reston, Virginia (PRWEB) August 16, 2012
RetailFetish.com has just made yet another improvement to their flash sale aggregator website. Since its inception RetailFetish.com has pushed other flash sale aggregator websites to new heights by streamlining the way people receive their flash sale emails, keeping their flash sale sites and deals current, and by offering only the best deals on each brand.
RetailFetish.com 's new improvement comes in the form of increased categorization. Visitors will now find that they can refine their searches to meet their individual needs. For instance, women can search through womens flash sales, men can search through mens flash sales, and parents can search through kids flash sales. This means that a man will not have to waste hours wading through sales on women's clothing and vice versa.
In addition to gender specific categories, RetailFetish.com has also added interest specific categories as well. For example, homeowners can now search through home decor flash sales. This has really streamlined the way people search through flash sale sites and this will probably become an industry standard in the near future. Others will try to copy these categories, but remember who brought them to you first.
People familiar with RetailFetish.com won't have to go through a whole new learning process either. These past visitors will continue to get their daily emails and will continue to quickly be able to see all of the newest deals by clicking on the "today's deals" button. However, past visitors who want to make their shopping experience a little quicker will now be able to do so by clicking through the categories that interest them.
RetailFetish.com knows that a flash sale isn't just a way to get a great deal. Many people enjoy shopping and enjoy looking through items they might eventually buy. Because of this, RetailFetish.com is always striving to make their reader's shopping experiences more enjoyable.
Not only this, but big category changes, an updated site, and daily emails are just some of the ways RetailFetish.com keeps their readers coming back for more. Many of RetailFetish.com's visitors come simply to read up on what is in fashion and what isn't.
The bloggers at RetailFetish.com are constantly blogging about the latest trends and visitors can read through their posts to find out, "what's hot and what's not". When readers find something of interest to them, they can then go ahead and take advantage of the new categorizations to find exactly what they want.
To take advantage of RetailFetish.com's new categorizations, blog posts, and daily emails, head on over to their website at RetailFetish.com.
###