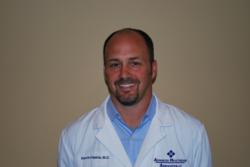 Dr. Helms' experience as a former internist at IU North will be an enormous asset to our community.
Carmel, Ind. (PRWEB) August 04, 2012
The Stratford, a retirement community located in Carmel, Ind., announced today that Dr. Kevin Helms with Advanced Healthcare Associates will serve as the community's new medical director.
According to The Stratford's Executive Director Sam Carrillo, the relationship is designed to improve care coordination between the continuing care retirement community and local hospitals such as St. Vincent Carmel and IU Health- North, the Indiana University hospital located less than 10 miles from The Stratford.
"Research by the Centers for Medicare & Medicaid Services consistently suggest that we can dramatically improve the quality of our assisted living, skilled nursing and memory care services by working more closely with local acute-care providers," said Carrillo. "Dr. Helms' experience as a former internist at IU North who helped develop their transitional care program will be an enormous asset to our community."
Transitional (or coordinated) care is a new model gaining momentum among acute-care providers throughout the country as they struggle to find a way to prevent unnecessary re-hospitalizations by providing better care outside of expensive hospital settings. Transitional care models take a holistic approach to evaluating the quality of care a person receives by looking at the entire care episode – from their initial admittance to a hospital to their health outcomes up to 90 days following their discharge from the hospital.
Since older adults are particularly vulnerable following an admission or discharge from a hospital, long-term care providers, especially those who offer skilled nursing services, are working more closely with hospitals to improve the process.
Dr. Helms is Board Certified in Internal Medicine and graduated from Indiana University's School of Medicine in 1997. Before joining Advanced Healthcare Associates, he served as an Internal Medicine, Pulmonary and Critical Care Hospitalist at IU Health – North for 12 years.
Dr. Helms is a member of the American Medical Directors Association and the Indiana State Medical Society.
For more information about the transitional care options available at The Stratford contact the community by phone at 317-733-6601 or by visiting http://stratford-living.com.
About The Stratford
The Stratford is an active retirement community located in the Village at WestClay which helps members live longer, healthier and happier lives by offering an array of amenities including maintenance-free living, daily fine dining, weekly housekeeping, a nationally recognized wellness program and continuing-care health services. Members can choose from a variety of floor plans including single-family cottage homes and condominium-style villas. Assisted-living, Alzheimer's care and skilled-nursing rooms are also available for those who need to make a transition from independent living. More information about The Stratford is located at http://www.Stratford-Living.com.