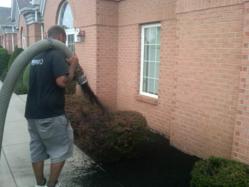 Lockport, NY (PRWEB) August 06, 2012
D. Stanley Lawn and Landscape is a full service landscaping specialist based out of Lockport, N.Y. that offers both residential and commercial clients a full range of landscaping services. One of the most important services the company provides is mulching. Mulch is an essential element of any landscape, and D. Stanley Lawn and Landscape wants consumers to know why.
One of the primary uses of mulch is to maintain soil moisture. By doing so, mulch allows the landscape to more efficiently use the water it receives, cutting down on the amount of water needed when watering. Mulch does this by helping to prevent evaporation, letting the water seep deeper into the soil.
Mulch also helps control weds. By placing a 2 to 4 inch layer of mulch in a flower bed or garden, a landscaper is making it much more difficult for weeds to germinate and grow. As most landscapers will agree, fewer weeds is always a good thing.
On the other hand, applying mulch to a landscape also helps improve the soil's fertility. This means that the plants landscapers want to grow will have an easier time doing so. As a side benefit, a mulched lawn or landscape has a clean, uniform look. This combined with fewer weeds and healthier plants means that the landscape will be as attractive as possible.
Laying mulch and knowing how much to use is where it gets tricky. D. Stanley Lawn and Landscape has years of experience and top of the line equipment to help keep its clients properties looking great. The company utilizes an industrial-strength blower to evenly spread mulch across properties of almost any size. This allows the company to go from a small home property to a large commercial landscape design with no problems, making D. Stanley Lawn and Landscape a one stop source for the community's mulching needs.
About the company
D. Stanley Lawn and Landscape is a full service landscaping company located in Lockport, NY. They provide residences and businesses with a wide range of landscaping services. D. Stanley Lawn and Landscape was formed in 2002 since then, they have strived to provide outstanding service to all of their customers. Providing their customers with quality workmanship in a timely fashion has been their priority since day one. They are dedicated to 100% customer satisfaction. On a regular weekly basis, they service all of Western New York. For more information visit their website at http://www.stanleylawn.com.