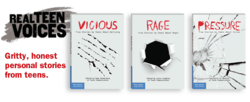 Direct, revealing, and often raw, these real teen voices will ring true for any reader who has faced bullying, anger, or stress.
Minneapolis, MN (PRWEB) August 07, 2012
The Real Teen Voices series offers a window into the lives of inner-city teens. In these books—Vicious, Pressure, and Rage—teen writers open up to tell personal stories that tackle difficult, real-life issues related to bullying, stress, and anger. The essays were written by teens in an intensive writing program at Youth Communication, a nonprofit organization in New York City that helps marginalized youth develop their full potential through reading and writing.
The essays in Vicious: True Stories by Teens About Bullying address every type of bullying: physical, verbal, relational, and cyber. These writers experience cruelty and hurt—Kiara and her friends are terrorized by a cyberbully, Jeremiyah is attacked for being gay, and Elie fights back so hard against bullying he becomes a bully himself—but their essays reveal resilience. Also included, a therapist offers tips on what adults can do to help stop bullying.
In Pressure: True Stories by Teens About Stress, stress hits teens from all angles—at school, at home, and in their relationships. The essayists describe how stress has affected them and how they persevere through it, for example, Ashunte writes poetry to cope with the mental strain of being abused, and Ngan-Fong teaches herself to enjoy the moment, instead of pushing herself so hard to succeed that she never feels happy. The book includes tips and techniques for stress relief.
The teen writers in Rage: True Stories by Teens About Anger have plenty of reasons to be angry: parental abuse, street violence, peer pressure, and more. Their stories express rage honestly, but also show examples of anger management for teens. Read stories like "Ready to Fight" from Joseph, who was physically and sexually abused, but whose rage subsides when he finds a foster mom who respects him, and Shateek, who learns to channel his anger into success on the wrestling mat. He writes, "When my grandmother died and I was taken from my family, I felt like I was the only person in the world; I didn't want to talk to anybody. I got in to a lot of trouble in school because I wasn't able to control my anger . . . Wrestling taught me how to control my anger on and off the mat, and I was happy I could fight without getting in trouble for it."
Direct, revealing, and often raw, these real teen voices will ring true for any reader who has faced bullying, anger, or stress. Readers will be inspired by the writers' courage and strength in working hard to overcome problems both large and small. The books can also help teens develop their writing skills, by providing examples of how to construct a story. Youthworkers, teachers, and counselors can use these books to help teens apply the experiences of these writers to their own lives. The Real Teen Voices books are $11.99 and available nationwide at bookstores or at http://www.freespirit.com.
About Youth Communication
Youth Communication is a New York–based nonprofit organization that teaches writing, journalism, and leadership skills to inner-city teens. Founded in 1980, its mission is to help marginalized teens develop their full potential through reading and writing, so they can succeed in school and at work and contribute to their communities.
About Free Spirit
Headquartered in Minneapolis, Minnesota, Free Spirit is the leading publisher of learning tools that support young people's social-emotional health and their educational needs. Free Spirit's mission is to help children and teens think for themselves, succeed in life, and make a difference in the world. For more information, visit http://www.freespirit.com. Like Free Spirit on Facebook and follow Free Spirit on Twitter.