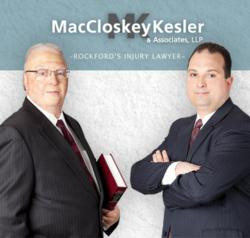 Rockford, IL (PRWEB) August 04, 2012
On May 1, 2012, Kim MacCloskey and Associates changed its name to MacCloskeyKesler and Associates to more accurately reflect the ongoing partnership between attorneys G. Kimball MacCloskey and D. Phillip Kesler.
Kim MacCloskey and Associates was founded in 1998 by attorney MacCloskey, who graduated magna cum laude (fourth in his class) in 1989 from Northern Illinois University College of Law. Phil Kesler joined the firm as an Associate attorney in 2004 after also graduating from Northern Illinois. In 2010 Mr. Kesler became a partner in the firm.
MacCloskeyKesler and Associates concentrates its practice in plaintiffs' personal injury, and has represented in excess of 3,000 people over the life of the firm. They represent injured people and their estates for all manner of injury claims, from car crashes to trucking accidents to motorcycle collisions to dog bites and fall downs. They have recovered tens of millions of dollars for the benefit of their injured clients. Both Mr. MacCloskey and Mr. Kesler are members of the prestigious Multi-Million Dollar Advocates Forum which is made up exclusively of attorneys who have received trial verdicts in excess of Two Million Dollars.