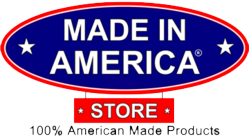 Corn is King and Has Been for 25 Years in Eden
Elma, New York (PRWEB) August 03, 2012
The month of August is one of the busiest months behind December for the Made In America Store. The summer month of August brings festivals, shows and a slew of community events to keep everyone busy.
The month of August brings the Erie Country Fair, the Eden Corn Festival and multiple tour buses stopping at the Made In America Store in Elma, New York.
The Eden Corn Festival started back in 1959 when the Chamber of Commerce tossed around the idea of an annual Festival to promote the town. The 49th Annual Eden Corn Festival brings live performances from Dustin Lynch, a National Recording Artist, on August 5th, a wide variety of food vendors, carnival rides, tractor pulls, square dancing, arts and craft shows, a full day car show, country music entertainers and plenty more of entertainment for everyone. Among the other attractions at the 49th Annual Eden Corn Festival, the spotlight will be on the buttery flavored sweet corn on the cob, always served fresh and hot.
"Corn is King and Has Been for 25 Years in Eden," said The Sun Newspaper.
The Made In America Store will also be attending the Eden Corn Festival with a tent, offering some of their 100% made in the US merchandise. The Eden Corn Festival starts Thursday, August 2nd and goes until Sunday August 5th.
August 8th kicks off the Erie Country Fair in Hamburg, New York and the Made In America Store has a 5,000 foot display. Last year the Made In America Store was the talk of the festival, selling record quantities of Okabashi Sandals, Vintage Metal Signs, Claey's Hard Candy and Made In America T Shirts. This year the Made In America Store is introducing new Personalized Wooden Signs, Elastic Bracelets and Glassware.
The Erie County Fair celebrates its 173rd year of bringing food vendors, attractions, ride, live entertainment and merchants together for 12 days of fun for the whole family. The Erie County Fair will host over ten different live concerts. Among other big name artists, Hot Chelle Rae, Boston, Ted Nugent and Blake Shelton will grace the stage at the Buffalo.com Grandstand.
The Made In America Store is located at 900 Maple Road in Elma, New York and is committed to selling 100% American manufactured products. You can visit http://www.MadeInAmericaStore.com for more information or shop our catalog of over 3,500 products from over 290 vendors that are devoted to producing USA made products. All US military personnel, both active duty and veterans, receive a discount every day. Consumers can also keep up to date news articles, events, photos and contests with Facebook, Twitter, Google+, Pinterest and Tumblr!