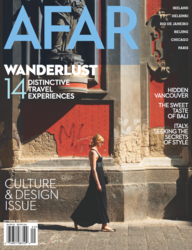 "We've really made an impact across all our platforms in our goal to help people to travel better; AFAR is in a very strong position to continue building on that." Greg Sullivan, Co-Founder, AFAR Media
San Francisco, CA (PRWEB) August 02, 2012
AFAR Media has announced a number of strategic leadership additions at the multi-platform travel media company.
Co-Founder Joe Diaz has been named Chief Product Officer of AFAR and will focus primarily on promoting and growing digital and mobile platforms. He is succeeded as Associate Publisher by Bryan Kinkade who joins AFAR from Outside Magazine where he was Associate Publisher and was previously at
The New Yorker and National Geographic Adventure. Shaun T. Whitley has been named Senior Sales Director of AFAR after serving as Travel Director at Saveur. John Galante will now be International Travel Director responsible for international sales and for building AFAR's Travel Agent Platforms. Onnalee MacDonald joins as West Coast Sales Director. Ms. MacDonald previously ran West Coast Sales for Billboard as well as Hearst and Warner Brothers. Mr. Kinkade and Mr. Whitely will be based in New York; Ms. MacDonald is in Los Angeles; Mr. Diaz will split his time between San Francisco and New York.
"AFAR has achieved incredible momentum in three short years, " said Ellen Asmodeo-Giglio, Executive Vice President and Publisher of AFAR. "All of our platforms continue to thrive and grow, and we are strategically positioned for continued success with our new additions. I couldn't be more thrilled."
"We are really excited about our growth," adds Greg Sullivan, CEO and Co-founder. "Our success to date has enabled us to attract some great new talent to the company. We continue to see ad growth both in print and digitally."
Launched in 2009, AFAR is one of the fastest growing magazines in the US market, growing from a paid circulation of 50,000 at launch to over 175,000 today. It has also been very well received by advertisers with ad pages up 100% year-end in 2011 and carries a host of global brands including Hermes, Louis Vuitton, Mercedes, Jaguar, and Porsche. In early 2012, AFAR.com came out of beta, followed by the introduction of the well reviewed and received AFAR Mobile App. AFAR Experiences had a very successful launch in Cairo in 2011 and final plans are in the works for AFAR Experiences South Africa, taking place in Johannesburg October 8-11, 2012. Learning AFAR is in its third summer, having sent over 100 underserved students from coast to coast on life-changing leadership service trips abroad.
"We've really made an impact across all our platforms in our goal to help people to travel better, " Sullivan continues. "We're in a very strong position to continue building on that. "
ABOUT AFAR MEDIA
AFAR is the multi-platform travel media brand that inspires and guides those who travel the world to connect with its people, experience their cultures, and understand their perspectives. Headquartered in San Francisco, with an office in New York City, the company launched in 2009. Its platforms include the award-winning AFAR magazine, AFAR.com, the AFAR mobile app, the non profit AFAR Foundation, and immersive travel series AFAR Experiences.