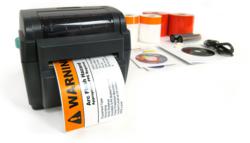 Lake Oswego, OR (PRWEB) August 05, 2012
Arc Flash is a potentially destructive element wherever high voltage electrical components are present. Personnel, equipment, and property can be kept safe with the right knowledge and using the proper precautions. The affordable LabelTac 4 Arc Flash Package includes everything you need to get started making OSHA and NFPA 70e compliant arc flash labels right away.
The LabelTac 4 Industrial Thermal Printer is the easiest way to print all of your Arc Flash, 5S, Pipe Marking, Lean, and other safety labels in-house! Prints indoor/outdoor signs, stickers, and labels up to 4" tall, and 40" long, that are UV, chemical, weather, water, and wear resistant, and won't fade or smear over time. These labels are perfect for use in any environment- whether it be a quiet, office-style scenario, electrical panels and tranformers, or even the toughest industrial manufacturing facilities.
To view this product, visit Creative Safety Supply for more information and ordering information.