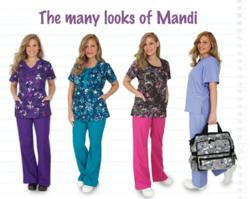 Plantation, FL (PRWEB) August 04, 2012
In April 2012, Uniform Advantage, a leading national provider of scrubs and medical uniforms, set out to find its Ultimate Fan. This fan would be a special medical professional or student who could prove their dedication to and enthusiasm about the UA brand on Facebook. In return, the winner would win an all-expenses-paid trip for 2 to Ft. Lauderdale, FL, a $200 UA shopping spree, and a feature in the fall 2012 UA catalog.
The month-long contest was hugely successful, generating immense participation from UA's Facebook fan base. One fan stood out among all of the contestants, and this winner was Mandi, a CNA/GNA from Cumberland, Maryland. Mandi demonstrated her passion and spirit for Uniform Advantage and her profession via Facebook as well as in her daily life working at a Geriatric Nursing & Rehab Center. She even rallied her co-workers to purchase matching UA Easter scrubs and wear them on Easter with matching bunny ears!
As the "Ultimate Fan", Mandi was flown down to Ft. Lauderdale for her vacation and UA photo shoot. She was photographed in 6 new medical uniforms looks from the fall 2012 collection. Mandi's feature is on page 15 of the fall UA catalog and there is also unique page on the UA website to showcase Mandi, so customers can learn more about her and can shop the new fall scrubs that she modeled for her catalog shoot.
To watch behind the scenes footage from Mandi's photo shoot and to shop her 6 new fall looks visit the page dedicated to her on the UA website: http://www.uniformadvantage.com/pages/misc/ultimatefan.asp.
About Uniform Advantage
Uniform Advantage is a leading retailer of scrubs and medical uniforms. Founded in 1985, the company operates out of Plantation, Florida and ships from their distribution center near Atlanta, Georgia. It has grown to include 28 scrubs stores located in key cities across the US and Canada, a catalog division and an entity dedicated to the online market.
For more information and to view their garments, visit the Uniform Advantage web site at http://www.UniformAdvantage.com or call 800-283-8708.