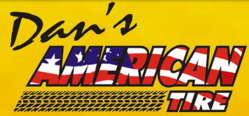 Local Canton, Ohio auto service center Dan's American Tire offers 2 free tickets to Cedar Point, over a $100 dollar value, with the purchase of four select tires through August 5th
Canton, OH (PRWEB) August 02, 2012
Locally owned and operated auto service provider Dan's American Tire, in Canton, has got hot summer deals on the purchase of new tires by some of the top name brands in the business. For a limited time Dan's will give two tickets to Cedar Point amusement park with the purchase of four select tires from Goodyear, Dunlop, or Kelly, and customers will be entered into a drawing to meet race car driver and legend Dale Earnhardt Jr. The tire promotion runs now through August 5, 2012 with the sweepstakes winner drawn after July 29, 2012. Interested customers with questions are asked to contact Dan's American Tire or a cashier for additional details.
In addition, Dan's American Tire is also offering up to $160 mail-in rebate when you purchase a set of four select Goodyear or Dunlop tires. The mail-in rebate is paid in the form of a Goodyear Visa prepaid card and in order to receive the full $160 rebate the purchase must be mad on a Goodyear Credit Card. To top off this offer, Goodyear is offering 6 months no interest when you use the Goodyear Credit Card. This offer ends on August 5, 2012 so if you are in need of some quality tires, contact Dan's American Tire for more details on this promotion.
Summer is a great time to purchase new tires for any car, truck, or SUV. Tread should be checked often, and tires should undergo seasonal routine maintenance such as balancing, tire pressure checks, as well as inspections on wear and tear to receive the best safety and life out of the tires. Dan's American Tires in Canton Ohio has a service department that specializes in tires, repair, and maintenance by skilled technicians and unbeatable prices. With a fully stocked inventory of some of the top name brand tires such as Goodyear, Dunlop, Kelly, Falken, Nexen and more, finding the right tire at the right price is fast and easy.
Dan's American Tire has been Canton's trusted tire and auto service provider for over 20 years. With a new customer friendly website complete with news, blogs, and special deals, Dan's gives the customer what they need with service they have grown to trust. Customers can shop and compare tires online by searching Dan's wide inventory by brand name, specials, or vehicle. The website also offers a wealth of information about car repairs and services to inform and educate customers on their vehicle needs. For more information about Dan's American Tire, promotions and specials, or to schedule an appointment, log on to Dan's American Tire at dansamericantire.com today.
About Dan's American Tire: Dan's American Tire opened in Canton over 20 years ago and has been happy to provide their customers with the best in quality service at the best price. Specializing in tires and tire repair and carrying top name brands Dan's highly trained technicians help customers feel confident about their investment and safety. The auto service shop also performs maintenance and repair on batteries, heating and cooling systems, brakes and more. Stop in today!
Dan's American Tire
2852 Whipple Avenue Northwest
Canton, OH 44708
330-477-2524
Dan's American Tire - Where the Rubber meets the road!
http://Dansamericantire.com was built and powered by Tire Company Solutions (TCS), the complete tire software solution company, located at 500s. Walnut Ave. Cookeville, Tennessee. For contact information, visit their website at http://www.tcstire.com