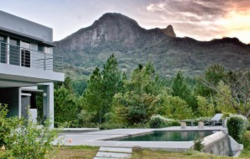 This is the most authentically Panamanian real estate collection in the country...
Panama City, Panama (PRWEB) August 06, 2012
Panama Equity S.A., a boutique real estate agency based in Panama City, Panama, announced August 1, 2012 its new Lifestyle Featured Properties Series reflecting the absolute best of what the diverse Central American isthmus has to offer.
The Republic of Panama, an emerging travel and retirement juggernaut, prides its growth on four distinct lifestyle ecosystems – city, beach, mountain, and countryside – which Panama Equity has used to inspire its new portfolio of featured listings. Each of the agency's handpicked properties echo something special about the isthmus establishing this property collection as one of the most authentically "Panamanian" available to date.
Metropolitan Jetset
Properties that made the list in Panama City -- Central America's most cosmopolitan capital -- reflect aspects of Panama's distinct urban appeal such as a prime location, ethnic diversity, and world-class amenities. Taking front row to Panama's ever-growing tower revolution, Panama Equity's City Series properties offer unobstructed ocean views, unrivaled neighborhood prestige, and market leading building amenities. The properties in this collection showcase everything Panama City has become famous for over the past decade.
The Tranquilo Beachfront
Enjoying both the Caribbean and Pacific Coasts within the same afternoon is nothing new to Panama's residents. So it's no wonder Panama Equity's featured beach properties were selected to highlight the Republic's healthy beach culture. Chosen with proximity to first-world conveniences in mind, the agency's Beachfront properties offer industry-best views, prime oceanfront location, and multi-use capabilities.
The Mountain Retreat
Rainforest accounts for nearly 60% of landmass in Panama and the boutique agency's mountain properties are about as distinct as the nation's canopied biodiversity itself. Real estate selected for Equity's Mountain Collection is chosen exclusively for its embracing of the tropics: that means tropical hardwoods, expansive treetop views, and plenty of jungle-dwelling neighbors to entertain.
The Sprawling Countryside
Perhaps Panama's most authentic ambiance lies in its interior provinces of Los Santos, Veraguas, and Cocle where culture, history, and tradition seem to represent best the values of the country as a whole. Properties selected for Panama Equity's Countryside Collection stress spaciousness, low-impact development, and a Latin cowboy allure.
About Panama Equity:
Panama Equity is a boutique real estate agency helping buyers solve the problem of finding the right property for the right price. Their team of bilingual agents understands client expectations and delivers with expert market knowledge. Since 2007, the team at Panama Equity has cultivated working relationships with attorneys, government agencies, and bank managers to help offer a full service solution to international and local clientele.