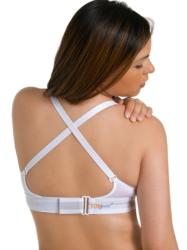 This is the most comfortable bra I've worn. I'm heavier chested, so it's hard for me to find bras that fit me perfectly. This bra you can adjust to your shape and size.
Huntington Beach, California (PRWEB) August 06, 2012
TOMgirl Apparel introduces the innovative Velcro Back Comfort Bra. The bra's unique Patent Pending Velcro back closure allows the wearer to adjust band size six or more inches. This is revolutionary for women with hard to find sizes.
Bra also works great as a maternity bra because the band grows and shrinks with you. Cups unhook for nursing or to convert to a cross back style. The Velcro Back Comfort Bra was designed to give you the supreme comfort of a sports bra, but with the lift and support of a push-up.
TOMgirl Apparel is a lingerie and loungewear company started by a mom, Amanda Lehto, who was frustrated with uncomfortable bras, poor fit, and lack of support. After years of searching for a bra that was both comfortable and flattering, Amanda decided to create one on her own. Realizing that most brands did not even carry her size, a 30E, she came up with the idea of a Velcro back closure to fit women of all sizes.
The most important factors to TOMgirl Apparel are comfort, support, and fit. A new mom needs to wear a bra at all times to avoid leakage and to support her growing breast size. Therefore, the bra must be comfortable enough to sleep in while still convenient for nursing. With breast size and weight changing all the time, the adjustable Velcro band makes it easy to customize.
Women who have small cup sizes with large band sizes, as well as women who have large cup sizes with small band sizes, have been vastly overlooked in the lingerie industry. TOMgirl Apparel provides a comfortable solution for these women to finally have a bra that fits perfectly. The Velcro Back Comfort Bra is available in six adjustable sizes and three colors. More information at http://www.facebook.com/TOMgirlApparel.