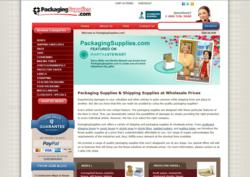 Created the ultimate destination website for packaging.
Cleveland, OH (PRWEB) August 03, 2012
PackagingSupplies.com brings new shipping supplies to its online catalog and updates its website in an effort to improve customer experience.
Packaging Supplies is excited to bring new packaging and shipping supplies to its online catalog this year, including cardboard boxes, mailing tubes, and packing tape. The company is a division of Cleveland Packaging, Inc.; they will also be making some minor changes to its website in an effort to improve customer experience.
Some of the changes being made to their new Web site include a state-of-the-art internal site search which will direct cutomers to their desired page using thousands of combinations of keyword phrases. Also new on the site are the packaging blog and white papers which will create the ultimate web site destination for packaging news, tips, and information.
Within the packaging industry exists a myriad of products available for consumers and businesses alike, and PackagingSupplies.com is certainly no exception. As they continuously thrive to bring their customers the top quality shipping products available at wholesale pricing, they are excited to start offering these items to their online catalog, including food packaging products, bin boxes and shrink wrap.
PackagingSupplies.com already offers an extensive selection of over 5,000 popular and hard-to-find packaging and mailing supplies which are all ready to ship. At any given time, 98% of the items displayed on the Web site ship the same day when orders are placed before 1:00pm EST.
Their newly expanded customer service and sales offices, located in Cleveland, Ohio has put ten years of packaging supply distribution experience into designing the industry's premier online catalog.
"We are committed to bringing our customers 100% satisfaction with quality products, excellent pricing, and packaging expertise to make your job easier," says President Timothy Spicer. "In doing so, it was our intent to offer small, medium, and large businesses an online catalog that is convenient and easy to use, based on customer needs. After all, our customers have come to us with various goals in mind. Some want to decrease their product damages, some want to increase productivity, some wish to decrease costs, and some want a more professional image displayed in their product's packaging. Whatever your goal, PackagingSupplies.com can help you meet it."
If this is your first experience with PackagingSupplies.com, Spicer wants you to give them a try. If you find a lower price elsewhere on the exact same item, they will meet or beat that price as long as it does not reflect a competitor's free offer, rebate, bonus, one-of-a-kind, or other limited guarantee offer.
"We would like to show you how quality products, excellent service and pricing can make a difference," said Spicer. "Our pricing is guaranteed. We strive to be the one-stop source for your packaging supply needs and our goal, once again, is 100% customer satisfaction."