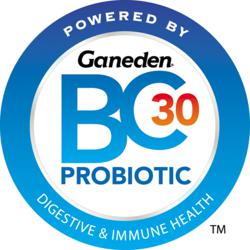 The FDA's No Objection letter affirms all of the time, the quality work and the extensive research put into demonstrating the safety of GanedenBC30.
CLEVELAND, OH (PRWEB) August 02, 2012
Ganeden Biotech, a recognized world leader in the manufacturing and marketing of probiotics, has received U.S. Food and Drug Administration (FDA) Generally Recognized As Safe (GRAS) status for GanedenBC30® (Bacillus coagulans GBI-30, 6086), a spore-forming probiotic ingredient. GanedenBC30 is the first Bacillus strain to receive GRAS status; Ganeden Biotech spent the last six years developing and implementing trials to prepare for the full GRAS filing.
The Department of Health and Human Services of the FDA has contacted Ganeden Biotech regarding GRAS Notice No. 000399 to inform the company that, based on the information provided by Ganeden Biotech, as well as other information available to the FDA, the agency has no questions or objections at this time regarding the expert panel conclusion that GanedenBC30 is GRAS under the intended conditions of use.
GanedenBC30 is a probiotic intended for use in a wide variety of foods including baked goods and baking mixes; beverages; cereals; gum; coffees and teas; condiments and relishes; confections and frostings; dairy product analogs; fats and oils; fruit juices; frozen dairy desserts and mixes; fruit and water ices; gelatins, pudding and fillings; grain products and pastas; hard candy and cough drops; herbs, seeds, spices, seasonings, blends, extracts, and flavorings; jams and jellies; milk; milk products; nuts and nut products; plant protein products; processed fruits; processed vegetables and vegetable juices; snack foods; soft candies; soups and soup mixes; sugars; and sweet sauces, toppings and syrups.
"What separates GanedenBC30 from other spore forming probiotics is not just the FDA's stamp of approval, which very few probiotics have, but the fact that it is safe to ingest at such high levels," said Mike Bush, Vice President of Business Development, Ganeden Biotech. "We expect many companies both within and outside of the U.S. market to fast track their product development based on the FDA GRAS approval."
FDA GRAS status is recognized in many countries outside the U.S. and potentially contributes towards regulatory acceptance abroad.
In 2007, Ganeden Biotech reached a self-affirmed GRAS determination for GanedenBC30 which allowed them to sell to the food market. In 2010, they reaffirmed this status and later submitted their claim to the FDA in 2011 with the guidance of the AIBMR Life Sciences, Inc.
John R. Endres, ND, Chief Scientific Officer, AIBMR Life Sciences, and lead panel expert for the GanedenBC30 GRAS self determination and FDA notification said, "Through their tremendous commitment to science and safety, Ganeden Biotech is a model for the probiotic and functional foods industries."
According to Dr. David Keller, Vice President of Scientific Operations of Ganeden Biotech, "The FDA's No Objection letter affirms all of the time, the quality work and the extensive research put into demonstrating the safety of GanedenBC30."
GanedenBC30 safeguards the cell's genetic material from the heat and pressure of the manufacturing process. It easily incorporates into products, overcomes shelf life challenges and withstands the acid and bile to which it's exposed during digestive transit.
GanedenBC30 can currently be found in more than 60 foods and numerous beverage categories including: baked goods, soup mixes, drink mixes, prepared foods, dairy, confectionary products and nutrition bars.
About Ganeden Biotech
Founded in 1997, Cleveland, Ohio based Ganeden Biotech is at the forefront of probiotic research and product development. Ganeden has an extensive library of published studies and more than 100 patents for probiotic technologies for the food, beverage, animal health, and now topical ingredients markets. The company is best known for GanedenBC30®, its patented, probiotic ingredient, which is found in more than 60 leading food and beverage products. Ganeden helps manufacturers develop and market probiotic products and offers an extensive intellectual property portfolio with patent and trademark protection for an array of technologies all over the world.
For more information about Ganeden Biotech and licensing opportunities, visit http://www.ganedenbiotech.com.