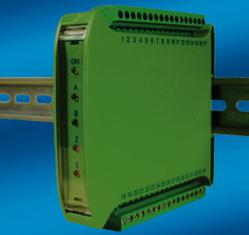 A versatile, multi-function solution for rotary encoder signal conditioning applications.
Sagle, ID (PRWEB) August 07, 2012
Encoder Products Company (EPC) manufactures an extensive line of high performance rotary encoders and accessories, including the RX/TX line of signal conditioners, transmitters and receivers. EPC has expanded the RX/TX line with the release of the all new RX/TXD a versatile, multi-function solution for rotary encoder signal conditioning applications.
Typically, encoders provide an output signal that feeds directly to a counter, controller, or other receiving device. However, some applications require additional measures to optimize the encoder signal for use. In such cases, EPC's encoder signal conditioners enable customers to modify the signal by converting the output type, by changing the voltage level or by splitting or repeating the signal. EPC's new RX/TXD combines all of these capabilities, along with an encoder tester/verifier function, into a compact DIN rail mountable unit.
When signals from installed rotary encoders need to interface with additional devices that have non-matching input requirements, the RX/TXD's level changer/conditioner capability is ideal. For example, a 24VDC open collector output can be converted to a 5VDC RS422 compatible differential line-driver.
If a single rotary encoder must provide signals to multiple devices, the RX/TXD can split one encoder signal into two or three identical outputs. This capability can eliminate the need for redundant encoders and also offers greater design flexibility.
For encoder signals transmitted over long distances, the RX/TXD can be configured as a signal repeater, eliminating the risk of voltage drop and ensuring signal integrity. Also, the RX/TXD can convert open collector encoder signals to differential line driver output, a signal type better suited for long cable runs or for electrically noisy environments. The RX/TXD accommodates a variety of digital signal types (RS422, NPN, PNP, TTL, etc.) and voltages (5VDC or 6-26VDC) as both input and output options, allowing for use with all EPC rotary encoders as well as other brands.
Compact and lightweight, the green PC/ABS housing is DIN Rail mountable, allowing for simple, flexible installation. In addition, a series of LED's on the front panel indicates power and signal presence, enabling an encoder tester/verifier functionality. Finally, all connections can be made via easily accessible screw terminals.
The RX/TXD is ready for shipment and offered within EPC's standard 4-to-6 business day lead time. Covered by EPC's 3-year warranty, the RX/TXD is available through a network of qualified distributors or through online purchase at http://www.encoder.com. A complete data sheet and installation guide are also available online.
Encoder Products Company manufactures a broad line of AccuCoder™ brand rotary encoders and accessories used by motor OEM's, industrial machinery OEM's and industrial end-users. Founded in 1969, the company is now the largest privately held industrial encoder manufacturer in the Americas. EPC operates three global manufacturing centers located in Sagle, Idaho, USA, Wrexham, Wales, and Zhuai, China. All locations supply products for their respective regional markets.