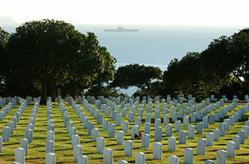 EasyTurf gives facilities the ability to enhance their appeal by providing an ultra-realistic, innovative and cost-savings landscape. - David Hartman, EasyTurf President
Vista, CA (PRWEB) August 03, 2012
A recent EasyTurf artificial grass installation at Fort Rosecrans National Cemetery will save taxpayers thousands annually on water and maintenance costs. Along with the dramatic reduction in water costs to taxpayers, the recently upgraded landscape at the prestigious National cemetery provides a beautiful, virtually maintenance-free solution to a historically challenging landscape area for the cemetery to maintain.
The requirements of the project included preserving and enhancing the cemetery's elite status, while at the same time providing a cost-saving, environmentally-friendly landscape solution.
The complicated design of the area to be landscaped at Fort Rosecrans was easily matched by the versatility of the EasyTurf product. EasyTurf can literally be installed over almost any surface. In this particular case precise cuts around every monument and each headstone were necessary which made for a truly unique project.
The cemetery had also experienced some drainage problems in the project area. During heavy rains, mud and water accumulated, which created an unsightly and potentially dangerous environment. Installing EasyTurf, with its proprietary, 100 percent permeable MaxxFlow backing, allowed the water to drain freely through the new artificial grass surface. EasyTurf solved the cemetery's landscape problems.
"EasyTurf gives facilities the ability to enhance their appeal by providing an ultra-realistic, innovative and cost-savings landscape," said David Hartman, EasyTurf President. "EasyTurf's superior synthetic grass products and dedication to an exceptional customer experience continue to attract commercial businesses searching for aesthetic improvements."
Many businesses and military installations turn to artificial grass as a landscape alternative to benefit from dramatically lower water and maintenance costs. These potential savings helped the Fort Rosecrans Cemetery Directors make the switch to EasyTurf. The cemetery no longer needs to commit large funds and numerous time-intensive man hours to maintain the vast cemetery grounds, and Wes Jones, Fort Rosecrans National Cemetery Director says, "Our EasyTurf looks great. The area we had done is beautiful."
About EasyTurf
In May 2010 EasyTurf, Inc. a long-time distributor of FieldTurf's line of landscaping products and a
recognized leader in the artificial grass industry, became the national brand of FieldTurf's landscape, pet, playground and golf artificial grass products. The partnership allowed FieldTurf to rapidly expand its existing dealer network and accelerate sales and distribution of FieldTurf's landscape products on a national level to homeowners, municipalities, schools, businesses and the military.
Contact:
Jackie Luper, Director of Marketing
Phone: (760) 745-7026
Fax: (760) 888-2011