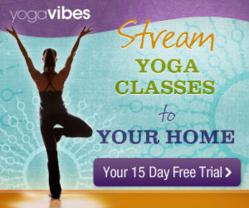 YogaVibes has partnered with several top-notch yoga teachers that have each created athletically minded sequences.
Charlotte, NC (PRWEB) August 07, 2012
YogaVibes, a leading distributor of online yoga videos, celebrates its commitment to bringing online yoga to the running community. Realizing what an amazing training supplement yoga is for runners, YogaVibes set out to offer an assortment of online yoga classes and free online videos specifically catering to runners and athletes.
YogaVibes has partnered with several top-notch yoga teachers that have each created athletically minded sequences. These highly accessible, yet challenging online yoga flows are beneficial for runners on many levels. Through yoga, expect to experience increased flexibility, reduced stiffness and tightness, amplified strength, enhanced balance, greater mobility, resistance to injury, greater endurance, and unwavering focus. There's no better way to up running performance.
In an effort to get more runners to realize the benefits of yoga, YogaVibes is offering a free 30-day trial subscription to race participants through Virtual Race Bags – twice as long as the standard 15-day free trial. Also, coming soon, YogaVibes is partnering with ZOOMA – a company that promotes a national series of women's half marathon races – to offer a free 3-month trial subscription.
At YogaVibes.com, runners have quite a diverse selection of online yoga classes from which to choose. From Sage Rountree's Yoga for Athletes Series, to Rolf Gates' post-run workouts, to Cara Bradley's athletically inspired flows, to Jessica Bellofatto's free post-run videos, it's impossible to be disappointed. Experience and enjoy some of YogaVibes' featured favorites.
Yoga for Runners with Sage Rountree (60 minutes)
Enjoy an online yoga class specifically created for runners (but appropriate for athletes and everyone!). Post-workout, practice this sequence to develop better balance, boost core strength, and improve hip flexibility. Even beginners will find this hour-long Vinyasa Yoga practice accessible, challenging, fun, and worthwhile!
IT Band with Sage Rountree (73 minutes)
In this online yoga class for runners, athletes, and everyone, focus on strengthening and opening the hips. Along the way, pay special attention to the IT band, a common area of tightness in runners. Finish feeling calm, open, and happy! A block or blanket would be a nice prop to have handy.
After Cardio Practice with Rolf Gates (30 minutes)
This highly accessible online yoga class pairs wonderfully with a cardio workout. Banish soreness and maximize fitness with Gates' Vinyasa Yoga techniques.
Time to Unwind with Rolf Gates (30 minutes)
This restoring online Vinyasa Yoga class is perfect for an end-of-the-day practice or as a complement to any cardio workout. Release stored tension from a long day or an intense fitness regimen.
Verge Yoga Stationary Sequence with Cara Bradley (61 minutes)
This online yoga class is perfect for beginners, but is not limited to beginners. The Verge Yoga Stationary Sequence will help runners heighten physical and mental stability. Explore standing and balancing poses, twisting postures, core-strengthening exercises, back bending, and forward folds. Focus on mindful movement and alignment to enhance inner strength, balance, and clarity. Even intermediate to advanced students will find this Stationary Sequence invigorating. Also, explore this collection of Cara's free online yoga videos, fitting for runners and athletes.
Reclining Hip Sequence for Athletes with Jessica Bellofatto (4 minutes)
This free online yoga video focuses on releasing tension and tightness in the hips. It is a short and easy hip sequence that can be done before or after (or both!) any workout, running especially. Loosen up the hips. Feel more open.
YogaVibes urges runners to step up to the mat.
Go strong. Feel light. Feel energized.
Do yoga to run like the wind.
About YogaVibes
Looking for the best online yoga classes? Look no further! YogaVibes.com is an online realm for high-quality, authentic yoga classes and instructional videos captured in a real studio with real students. YogaVibes offers a diverse selection of classes from the best yoga teachers in the world, making learning and living yoga easy in everyday life. YogaVibes' mission: To create a supportive, challenging, and welcoming online community of passionate and inspiring yogis.