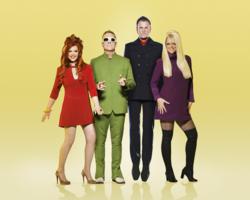 The world's greatest party band!
Modesto, CA (PRWEB) August 20, 2012
The B-52s, considered by their fans to be the world's greatest party band, will make their Modesto debut at the Gallo Center for the Arts at 7 pm on Sunday, September 9. The concert, part of the group's 30th anniversary tour, is expected to include early hits such as "Rock Lobster" and "Private Idaho" as well as more recent classics including "Channel Z," "Love Shack" and "Roam."
Tickets are on sale now and range from $39 to $89. Groups of 15 or more are eligible for a 15% discount. For tickets and more information, visit GalloArts.org or call (209) 338-2100.
Thirty years and over 20 million albums sold into their career, the B-52s remain a major concert attraction. The group was formed in October 1976 following drinks at an Athens, Georgia Chinese restaurant. They took their name from Southern slang for exaggerated 'bouffant" hairdos, and have been hailed by critics for creating a lexicon of songs, styles, phrases and images that would set the standard for the alternative music scene for the next decade.
Their unforgettable dance-rock songs, 'stream-of-consciousness' approach to songwriting and outrageous performance antics have cemented the B-52s reputation as one of the great party bands of all time.
###