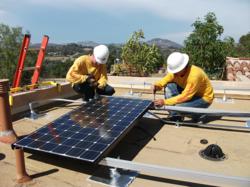 The vision is to lead a solar energy revolution where we shift our dependence from foreign fossil fuels to renewable resources.
Irvine, CA (PRWEB) August 02, 2012
Sullivan Solar Power, a leading Southern California renewable energy company, announces that its successful Huntington Beach Solar Program has resulted in the largest collective deployment of residential solar in the city's history. The innovative program, which helped the city declare energy independence, closed on July 30, 2012 and will generate enough power to reduce approximately 286,000 pounds of polluting carbon emissions per year.
During the Huntington Beach Solar Program, 19 residents signed up to go solar and committed to install a combined 126,263 watts of clean energy. As a result of the program, Sullivan Solar Power is paying community participants more than $40,000 collectively in cash-back payments.
Huntington Beach resident Patrick Brendan decided to go solar to save money and to be less dependent on the utility grid. The Brendan family signed up for the program to insulate their energy costs from Southern California Edison's increasing rates.
"Our electric bill has averaged $350 per month, and we are constantly pushing into the upper tiers of Southern California Edison's pricing matrix," said Brendan. "We were very motivated by the cost reduction and rate increase containment that our new solar system will help us realize."
The majority of program participants used Sullivan Solar Power's lease financing option, which does not require upfront costs. The average homeowner who signed up for the program had an electric bill of $260 per month, and will now have a new monthly solar payment of $149 for the same amount of electricity.
As part of the company's larger vision for solar expansion in Orange County, a new program exclusive to residents in Orange, Calif. will launch on Aug. 6. The new program will allow up to 60 participants to go solar for no upfront cost with guaranteed cash-back incentives. Available through November 5, 2012, the Orange Solar Program includes three cash-back milestones, and early adopters will receive the largest incentives.
"Our solar programs are designed in a manner that financially encourage the entire community to go solar," said Dustin Urquhart, director of Orange County operations at Sullivan Solar Power, "The vision is to lead a solar energy revolution where we shift our dependence from foreign fossil fuels to renewable resources."
Sullivan Solar Power will host a free solar luncheon on Saturday, August 25 at 11 a.m. for the public to learn how to participate in the Orange Solar Program. During the one-hour presentation held at the Orange Public Library on 407 E. Chapman Ave., local property owners will learn about solar technology, rebates and incentives and case studies. For more information on the Orange Solar Program, visit http://www.orangesolarprogram.org or call 1-800-SULLIVAN.
About Sullivan Solar Power
Sullivan Solar Power is a turnkey solar system provider that delivers solar electric projects from concept to completion with offices in Orange, Riverside and San Diego counties. The company has installed more than 10 million watts of solar power ranging from residential to large commercial and municipal systems. Sullivan Solar Power has a longstanding A-plus rating with the Better Business Bureau, with no complaints filed since its founding in 2004. The firm has been named one of the nation's fastest growing energy companies by Inc. Magazine and services clients throughout Southern California. Regardless of project size and scope, Sullivan is committed to delivering the best products provided by the most qualified professionals to every customer. Visit sullivansolarpower.com for more information.
###