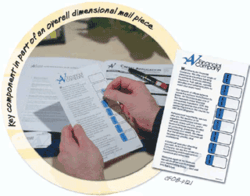 Rapid City, SD (PRWEB) August 07, 2012
Post-it® Flags on a card can be used for catalogs, magazine advertisement, direct mail response and newspaper advertising. These are also great for attracting more attention to advertising and increasing response rates. Post-it® Flags on a card from Baslercoinc are a proven marketing tool that acts as a personal reminder of who to call or what product to buy.
Baslercoinc is now offering custom printed Post-it® Flags on a card for companies who are looking to increase response rates on large scale marketing campaigns. They can be incorporated into catalogs, newspapers, direct mailing or magazines. This unique custom printed marketing tool can be used for a wide variety of things including increasing account penetration and gaining new customers.
Printed Post-it® Flags on a card provide ample opportunity to keep one's company name and contact information in front of customers at all times to remind them who to call or what product to buy. "Post-it® Flags on a card is one of the more popular items in our large quantity division because they are customizable to fit multiple marketing needs." says Gary Graves, President of Balsercoinc. For more information on this unique marketing product, call (800) 888-8309 or visit us online at http://www.baslercoinc.com
Baslercoinc products include regular and die-cut pads, cubes, flags, pens, highlighters, organizers and dispensers. Baslercoinc also provides a variety of unique options such as custom top sheet printing, alternating copy (rotating throughout the pad), second side printing, quick response on large quantity orders and custom sizes. To review additional products, visit us at http://www.baslercoinc.com/
Eric Graves, National Sales Manager
Baslercoinc
(800) 888-8309
eric.graves(at)baslercoinc(dot)com
http://www.baslercoinc.com
http://www.facebook.com/baslercoinc