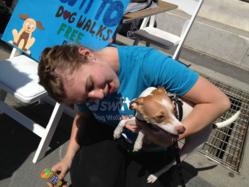 Swifto's Opt to Adopt will not stop until we see significant change in our Manhattan community, and eventually, all over America."
(PRWEB) August 03, 2012
Swifto Dog Walking, an innovative company based in Manhattan, announced their new Opt to Adopt Campaign on Monday. The Opt to Adopt Campaign will support local animal shelters by sponsoring rescue dogs each month and offering free services to raise awareness in the dog community.
Along with Pennsylvania, Ohio, and Missouri, New York State is infamous for over-breeding dogs and puppies in unsanitary, unsafe and inhumane facilities. Dogs bred in puppy mills live in cramped, wire-floored cages, and they often suffer from birth defects, disease, and malnutrition. Because of the laws protecting puppy mills, it has been difficult to regulate the conditions. Swifto initiated the Opt to Adopt Campaign to nurture advocacy among dog owners.
"As a dog walking company, it's imperative to Swifto that not only do we support organizations fighting against puppy mills, but we become advocates of adoption," said CEO and founder, Penina First. "At Swifto, we are not just dog walkers, but dog lovers, and it's our responsibility to help put an end to animal cruelty."
"It's a shame that, in this day and age, laws against animal cruelty are so weak they virtually have no effect on the perpetrator," says Director of Marketing, Mohammed Ullah. "If there were stricter and more humane regulations on puppy mills, thousands of dogs' lives would be improved or saved."
"Most New Yorkers, if you ask them, are against puppy mills, but they don't realize that nearly 90% of all puppy shops in the City trade with mill owners from upstate," says Ullah. "It's up to organizations like Swifto to educate the public. Every step counts, and Opt to Adopt will help lead the way."
Swifto's Opt to Adopt will endorse sponsorship of dogs from local animal rescue groups, give five free dog walks to anyone adopting from affiliated shelters, host events, and free meet and greets with sponsored dogs. Swifto will also give away promotional prizes such as dog toys, accessories, free Opt to Adopt T-shirts, hats and more.
Swifto will also be introducing a new Opt to Adopt mobile App to provide information on sponsored dogs, which will bring the same high-tech sensibility to adoption as Swifto's GPS Tracking App brought to dog walking. Ullah believes the Opt to Adopt App can potentially reach millions. "The Swifto GPS Tracking App has already improved the dog walking experience for our clients, and we want to provide the same convenience and ease when adopting. The more people who know about the movement, the more dogs we can save."
First says that she knows puppy mills won't close down in a single day, but all it takes is one dedicated person at a time to make a difference. Swifto is ready for the commitment.
"We care about dogs everywhere, whether they're our clients', or dogs fighting for their lives in a puppy mill. Swifto's Opt to Adopt will not stop until we see significant change in our Manhattan community, and eventually, all over America."