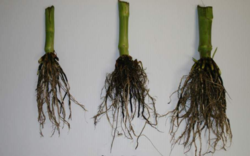 We continue to evaluate Stoller's technology as well as other inputs based on their excellent performance in our research trials.
Houston, TX (PRWEB) August 07, 2012
Temperatures, moisture levels, soil deficiencies, even high plant populations cause corn crop stress that can impact yield and a grower's bottom line. In an effort to develop a strategic approach to crop stress management the North Carolina State University Department of Crop Science, under the direction of Dr. Ron Heiniger, implemented a multiple year study of the issues and potential solutions.
Dr. Ron Heiniger, a PhD. in Crop Ecology and Simulation Modeling and recipient of the Gerald O. Mott Meritorious Research Award from the Crop Science Society heads up applied research programs in the areas of precision agriculture and remote sensing at North Carolina State University. In addition to his research work, Dr. Heiniger is the Corn Extension Specialist for North Carolina.
The study emphasizes two stress management factors: increasing root mass and altering a plant's physiological response to stress. Early root growth and deeper root penetration is effective in increasing access to water and nutrients. Managing plant physiology can encourage optimal plant development through stress periods to maintain yield potential. Concluding that a complete systems approach is required, Heiniger listed the benefits as "increased root-shoot ratio early, enhanced growth during ear development, and increased sink strength during grain fill."
Presenting the study results at a recent Agricultural conference Heiniger sited Stoller's Bio-Forge Plant Performance technology among the top five management practices contributing to higher yields. "The right hybrid at the right time using the right components is the sound approach to maximizing yields in stress conditions," shares Heiniger. "We continue to evaluate Stoller's technology as well as other inputs based on their excellent performance in our research trials." The trial data demonstrated a dramatic 15 bu/acre advantage where Stoller technology was applied.
"We are a research based, entrepreneurial company," states StollerUSA Marketing Director, Jeff Morgan. "We place a special emphasis on University Research and field trials. The end result is new and exciting technology that unlocks yield potential for those willing to think beyond the NPK approach of crop management."
For more information on Stoller technology and products go to http://www.stollerusa.com. For more information on Dr. Heiniger's research or to set up a time to talk with Dr. Heiniger or the research staff at StollerUSA contact plawson(at)mccormickcompany(dot)com.
About StollerUSA
Headquartered in Houston, Texas and celebrating over 41 years in business, StollerUSA is dedicated to helping producers enhance yields by maximizing genetic expression. StollerUSA's R&D team is located in an independent research facility allowing them access to the most advanced plant research technology. In addition, close ties with universities throughout the nation offer Stoller's R&D team crop perspective with a regional issues emphasis. Only Stoller products contain Stoller's proprietary technology that is proven to ensure optimum plant growth by maintaining appropriate hormone balance and activity. In combination with proper nutrition and good farming practices, the result is enhanced marketable yield, significant return-on-investment and improved stress tolerance. Validated by universities nationwide, Stoller's unique formulations outperform traditional products and result in healthier, more productive crops that are better able to achieve their full genetic potential.