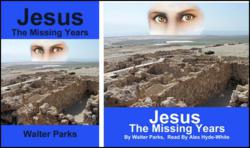 We know where Jesus was and what He was doing during the missing years; and why it was kept a secret.
Orlando, FL (PRWEB) August 04, 2012
The Bible tells us about Jesus going to the temple at age 12 and then about him starting his ministry in his 30's. There is no specific mention of Jesus during the intervening 20 years.
Did Jesus really exist and if so what was He doing during these "missing years"?
With the Presidential Campaigns making religion an issue UnknownTruths Publishing Company believed it was time to find the truth.
In seeking the answers UnknownTruths Publishing Company searched the Bible and many other ancient documents including the works of the Jewish historian Flavius Josephus, the Jewish philosopher Philo of Alexandria who lived in Egypt, the Roman writers, Pliny the Elder and Hippolytus, the Greek philosopher Dio Chrysostom, and many more.
Many additional documents that were written by unknown authors, especially those that became parts of the Dead Sea Scrolls and the Nag Hammadi Codices, were also studied. Remember that the Dead Sea Scrolls were found in Israel between 1947 and the 1950's and the Nag Hammadi Codices were found in upper Egypt in 1945.
The studies found proof of where Jesus was and what he was doing and why this period of His life was wrapped in secrecy. The secrecy was because of His isolation and because of the religious rivals of the time. His activities continued to be kept secret after His death because they were considered dangerous for His teachers and followers during those turbulent times.
The Bible showed where God gave instructions, through His Prophets Isaiah and Malachi, for the preparation of a place in the wilderness for His Son Jesus. The instructions were followed. A place was prepared.
After appearing in the Temple at age 12 Jesus was taken to this secluded place in the desert. It was there that He was prepared for His ministry.
The research and study found the scrolls that He studied and the ruins of where He studied.
UnknownTruths Publishing Company documented the research and study results in a book that is available as both an eBook and an audio book. This book is a Bible Story that fills in the missing years of Jesus and is greatly enhanced with findings from the Dead Sea Scrolls and many other ancient documents. It describes the formation of the parables of Jesus and gives insights into prophecies for our future.
Jesus the Missing Years invites readers and listeners to see and hear how and where the preparations for Jesus were made; to see photographs of the ruins of His place in the wilderness; to see computer generated re-constructions; and to read some of His scrolls pieced together from thousands of ancient fragments.
The book includes dozens of photographs relating to this secretive period of His life. The information will perhaps better prepare you for understanding the religious debates of the Presidential Campaigns.