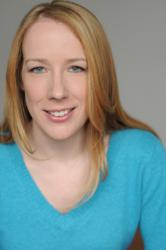 I like to celebrate my Twitter milestones. My followers came up with a night of comedy.
New York, NY (PRWEB) August 02, 2012
Jenifer Bloodsworth thought it would take more than 140 characters to thank her 5,000+ Twitter followers, so she's throwing an appreciation party this Friday with free performances by Florence, Dam Science and National Scandal at the popular Under St. Marks Theater at 94 St. Marks Place in Manhattan's Lower East Side starting at 8 p.m.
Hosting "Jenifer Bloodsworth's 5K Show" will be standup comedian Abbi Crutchfield, who the Huffington Post crowned "One of the 18 Funny Women You Should be Following on Twitter."
Bloodsworth, who hones her knack for smart, edgy humor at the Upright Citizens Brigade and the People's Improv Theater, said the idea for the 5K show actually came from her fan base.
"I always like to celebrate my Twitter milestones," said Bloodsworth, whose Twitter handle is @jenbloods. "When I had 4,000 followers, I asked them for ideas for ways to celebrate if or when I reached 5,000."
Most of those who responded asked for something related to comedy. That's when the 5k show was born.
"There were a number of requests for nude photos, but I figured I'd save that for a bigger milestone," Bloodsworth joked.
The program will include the following entertainment:

FLORENCE is an all-women's, long-form improv team of performers trained at the Upright Citizens Brigade (UCB) and includes Bloodsworth, Erica Tachoir, Corinne Caputo, Melissa Klein, Julianna Jennings, Megan Doherty, Freddi Scheib and Emily Bogue.
National Scandal is a sketch house team from the People's Improv Theater (PIT). Performers include actors Brad Anderson, Pat Byrne, Casey Cancellieri, Gina Fitch, Stephen McCarthy, Sarah Nowak and Kate Reilly. Writers include Jenifer Bloodsworth, Gabe Capone, Jonathan Desley, Joanna Hausmann, Melissa Surach and Pete Zuorick. Chris Aurilio is the director and head writer.
Dam Science is also a long-form improv team with roots from UCB. The team, which includes Bloodsworth, Willis Chen, Elizabeth Gannon, Ellie Jackson and Drew Luster, have been performing together since their first improv class at UCB.
When she's not writing sketch comedy, doing improv or performing stand up, Bloodsworth is a veteran writer and producer for television. She also has acted in film, television and theater. She just finished taping a segment for MTV's Made and helped set the record for "Longest Pop 'n' Lock Arm Wave" on Late Night with Jimmy Fallon.
Under St. Marks Theater has been a showplace for up-and-coming talent and experimental theater since the 1970s.
Admission to Jenifer Bloodsworth's 5K show is free, but reservations are encouraged and can be made at http://www.jeniferbloodsworth.com/blog.
About Jenifer Bloodsworth. Jenifer Bloodsworth is an actress, comedian and writer based in New York City. She has studied at the Upright Citizens Brigade and The People's Improv Theater. She is a member of indie improv teams Florence and Dam Science. She also is a member of The PIT house sketch team National Scandal.