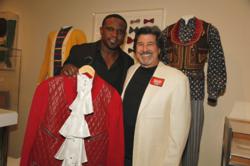 Burbank, Calif. (PRWEB) August 02, 2012
Family Matters star Darius McCrary brought an additional outfit to Warner Bros. Television's party for the Television Critics Association at the Paley Center for Media on Tuesday night, July 31 … but it wasn't a change of clothing.

McCrary, who starred as Eddie Winslow in the long-running hit comedy series, is loaning an authentic costume he wore on the show to Warner Bros. to display in the Studio's Television: Out of the Box exhibit at the Paley Center.
To download a photo of McCrary with the costume and Family Matters co-creator/executive producer William Bickley, please click here: https://www.yousendit.com/download/TEhVclVKQk5wTVU4RmNUQw
The outfit — a red leather-and-twill cotton blazer, ruffled white shirt, black pants and black patent leather-and-suede shoes — was worn by the actor during a karaoke competition in the season five episode "Aunt Oona" (featuring legendary singer Donna Summer guest starring as the dowdy Aunt Oona from Altoona, who surprised everyone with her unknown singing ability) and came from McCrary's own collection. It will be displayed alongside a costume and bowtie worn by costar Jaleel White as Steve Urkel.
Family Matters, which aired for nine seasons (1989–1998) on ABC, was produced by Warner Bros. Television.
Television: Out of the Box is an immersive and interactive exhibit at the Paley Center for Media in Beverly Hills, featuring history and memorabilia from nearly 60 years of television. For more information, click here.
# # #
Contacts:
Kristi Strupinsky
(818) 954-1985
Kristi(dot)strupinsky(at)warnerbros(dot)com
Robert Pietranton
(818) 954-4556
Robert(dot)pietranton(at)warnerbros(dot)com