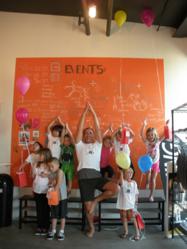 FUN is the main component in our kids program...when children have fun, they learn faster and are able to focus and stay engaged in the activity they are involved in.
Redondo Beach, CA (PRWEB) August 08, 2012
What better way to start off your weekend by doing something fun and active with your family? Well, a little fitness studio called Studio Pulse thought the exact same thing when they organized "Family Day." Originally it was a workshop which brought together parents who like Spinning classes and kids who like Yoga. It was so well received that they decided to build it into their regular class schedule on Saturday mornings at 9 am. Adding a Kids Program to their long list of classes could be just the thing to make the studio an all inclusive local spot that meets the needs of their clientele.
Over time, "Family Day" turned into a kids yoga class led by Groovykids yoga founder Greville Henwood. It starts at 9 am, the same time as the morning Spinning class. So every Saturday morning, the studio is filled with families and excited kids who can't wait to start doing hand stands and downdogs.
FUN is the main component in their Kids Program. When children have fun, they learn faster and are able to focus and stay engaged in the activity they are involved in. "We do poses which are often named after things found in nature, from animals to birds to objects! Some are challenging, some are easy but they all have a common thread. They involve physical movement, which allows and encourages kids to explore the mind body awareness while having fun", says Greville Henwood. Some poses require balance, some require relaxation and others demand focus and dedication. With this program, both moms, dads and kids can all be engaged in physical activity on a Saturday morning!
One special Saturday morning however, the Studio Pulse Kids Yoga Class had very special visitors. The kids from the Solace for the Children program joined Studio Pulse Kids to create a more exciting class. "Solace for the Children is a national non-profit humanitarian organization bridging cultures and religions to deliver medical, dental, optical, emotional, and education fundamentals to Afghan children in need," as it is described by the foundation. Studio Pulse liked the interaction within the group of kids so much that they asked Solace kids to come back the next week, and the week after that and then all summer, every summer there after; becoming a volunteer studio where the kids can come during their visit with their sponsor families to get together. The Kids Yoga Program claims to be an all inclusive routine, crossing borders, boundaries and barriers...the proof of that was in the day the Solace kids came. Even though they didn't speak the same language, the physical movement created a bonding experience between the kids which was stronger than words.
While many gyms have daycare for children, Studio Pulse prefers to keep kids physically active while the parents get in their much needed workout. They believe that instilling a love for movement and fitness in the early years creates strength, balance, coordination, agility, and flexibility; plus it's FUN! So if you love to move and want your kids to do the same, come and check out all the programs they offer!
About Studio Pulse
Studio Pulse, a Mad Dogg licensed facility, combines Spinning classes with strength and flexibility using fundamental training techniques, exhilarating music and a unique mind/body philosophy, all at a self-directed pace. They hold a very accommodating class schedule for SPINNING and Fusion classes that combine Spinning and Cross Training. Their tagline, "Spin Sculpt Stretch," covers all basics of a healthy fitness routine by incorporating cardiovascular, strength and flexibility training in one place. At 50 classes per week you'll find a convenient time to meet your schedule. Classes are offered as early as 6:00am and as late as 7:30pm.
Visit our website at http://www.spinstudiopulse.com.
Studio Pulse
409 North Pacific Coast Highway, #205
Redondo Beach, CA 90277
(310) 372-6065
http://www.studiopulserb.com
SPINNING is a registered trademark of Mad Dogg Athletics, Inc.