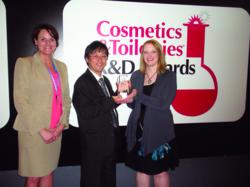 Barcelona (PRWEB) August 03, 2012
Cosmetics & Toiletries® announced the winners of its 2012 Research & Development (R&D) Awards, which annually recognize the latest advances in personal care product development. The awards consider the science behind consumer products to bring greater exposure to the ingenuity of both personal care ingredient suppliers and product manufacturers.
During the awards ceremony, held in April 2012 in Barcelona, Kao Corp. won the "Most Creative Application" category for its John Frieda Frizz Ease 3-Day Straight Semi-Permanent Styling Spray. This product is a premium, mass-marketed styling spray that straightens curly/wavy hair for up to three days or until shampooed. It envelops each hair strand and when exposed to heat from a flat iron, it changes from a solid to more liquid state. Upon cooling, the product changes back to a solid state, providing salon-quality straightened hair that lasts.
"This year's entries were all very innovative in different ways," said Rachel Grabenhofer, editor of Cosmetics & Toiletries®, "but I did notice several hair-straightening entries, which aligns with current market trends. In the end, though, the judges made their decision and this one really stood out."
Nominations are reviewed by an esteemed panel of international experts who evaluate entries for the two award categories—Most Creative Application and Best New Ingredient. The Most Creative Application category honors one new finished cosmetic/personal care product for the novelty and craft of its formulation, while the Best New Ingredient honors one new raw material for its innovative design.
Each entry is rated for its significance to the personal care industry as well as its potential for long-term impact. Previous finalists in this category have included Kimberly-Clark Corp., PZ Cussons, Procter & Gamble and Iredale Mineral Cosmetics. For more information, visit http://www.CosmeticsandToiletries.com/awards.
About Cosmetics & Toiletries®
Cosmetics & Toiletries® and parent company Allured Business Media bring more than a century of expertise in product formulation, scientific application, technological breakthroughs, regulatory updates, business news and more to the cosmetics R&D industry. Cosmetics & Toiletries® is proud to produce the annual Cosmetics & Toiletries R&D Awards and has expanded its reach in 2012 with the R&D Awards – Asia. For more information, visit http://www.CosmeticsandToiletries.com.
About Allured Business Media
Allured Business Media has been a global information leader in the cosmetic, spa, and flavor and fragrance industries for more than 80 years. Publisher of definitive business-to-business magazines and industry-leading books, electronic media, reference materials and directories; and producers of dynamic trade shows and conferences; Allured continues to set information standards in the industries it serves. Products include Cosmetics & Toiletries®, GCI®, Perfumer & Flavorist®, and Skin Inc.® magazines; the Face & Body® Spa Conference & Expo, and the World Perfumery Congress (WPC). For more information, contact Allured Business Media, 336 Gundersen Drive, Suite A, Carol Stream, IL 60188-2403 USA. TEL 1-630-653-2155, FAX 1-630-653-2192. http://www.allured.com.
####