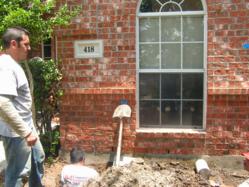 A1 wants to help!
DFW, TX (PRWEB) August 14, 2012
A1 Guaranteed Foundation Repair is offering expanded summer specials to included higher discounting for members of the Military as well as Teachers and School Professionals as a way to give back to the community.
President Jeff Kattner, who has spent twenty years repairing foundations in Texas, stated that "Our Summer Specials have been a success in helping to ease the cost of foundation repair, but we want to do more for these very special groups. Budget cuts in the school systems and the time our military members spend away from home make it difficult for these people, and we just want to help in any way we can."
By additionally offering free Engineering reports, free inspections, and free preventative maintenance advice, A1 continues to ease the expense of foundation repair.
Expansive soils in Texas combined with long summer droughts wreak havoc on foundations when not properly maintained. The shifting soil can cause cracks in foundation and both exterior and interior walls. Sticking doors and windows are also a signs of foundation distress.
A1 Guaranteed Foundation Repair services Dallas, Ft. Worth and surrounding areas with expert slab foundation repair, house leveling and also specializes in Pier and Beam repair. A1 also provides many types of solution for drainage issues and installs root barriers to prevent trees from robbing moisture from your foundation.
Find more information at http://a1guaranteedfoundationrepair.com.