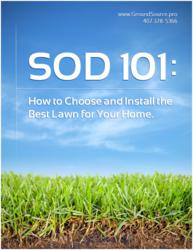 We literally wrote the book for sod installation in Central Florida
Orlando, FL (PRWEB) August 04, 2012
How much more inviting is a house with a lawn that's well-cared for? How busy is a restaurant with a lawn that's brown? Sod installation may be the last thing that the owner of a home or a business may think of, but it could be the detail that invites business – or makes or breaks a property sale. A simple lawn replacement could add thousands of dollars to property value.
Even for those that are aware of the effect of beautiful sod on the overall look and feel of a property – and ultimately, its financial value – it may still be a long winding path of questions to finally get that sod installation or lawn replacement completed. To top if off, there are unique climate considerations when it comes to choosing and installing a lawn in Central Florida.
A little expertise may be in order. To that end, this week, Ground Source Landscaping in Orlando released a free, full-color visual guide PDF entitled Sod 101 - Your Guide to Central Florida Sod. Ground Source is a long-standing authority on lawns and lawn health, offering up services that include sod installation, lawn replacement, sprinkler installation and sprinkler repairs, irrigation service, and landscaping in Orlando.
With vibrant color photographs and charts, "Sod 101" answers essential questions and considerations surrounding sod. It reviews varieties of grass used in sod installation; sod differences in shade or sunshine; fitting into homeowners association regulations surrounding private lawns; appropriate lawn choices depending on level of maintenance, irrigation, fertilization, and pest control; and function and aesthetics that the lawn is expected to have.
"Sod 101" includes a comparison chart outlining the strengths and weaknesses of the different varieties of sod and how they measure up in terms of appearance, shade tolerance, drought tolerance, chinch bug resistance, and reduced mowing. The guide also includes a step-by-step explanation of the sod installation process.
From restaurants to apartment complexes to private homes, creating curb appeal with Orlando and Central Florida sod installation and landscape design from Ground Source Landscaping adds property value and invites business. Getting your questions answered and making the proper choice of lawn may be as simple as choosing the proper sod installation company.
Ground Source is proud to offer "Sod 101" free of charge to anyone who is ready to make a beautiful change to their property. In the spirit of providing free content and matchless customer service, Ground Source also offers free estimates; the Central Florida company also does their work risk-free, as customers can pay later and only after they are satisfied with the results of their sod installation or lawn replacement. The company is fully insured and guarantees their work for 30 days, during which time they fix any problems free of charge. The Ground Source website at http://www.groundsource.pro is updated regularly with informational content.
About Ground Source:
Ground Source Landscaping, LLC is the authority on sod installation, lawn replacement, sprinkler repairs, irrigation service, and landscaping in Orlando and the rest of Central Florida. Owner Joe Mouad and the rest of the Ground Source Team provide exceptional quality service at fair prices.