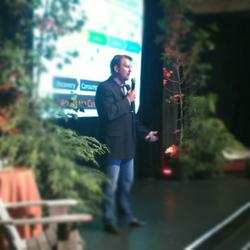 Minneapolis, MN (PRWEB) August 06, 2012
Digital Marketing and Public Relations professionals from all over the Twin Cities attended the official launch event celebrating internationally known consultant, blogger and speaker Lee Odden's new book Optimize: How to Attract and Engage More Customers by Integrating SEO, Social Media, and Content Marketing.
"The best form of marketing is someone referring you," shared TopRank Online Marketing CEO and Optimize author Lee Odden at the recent Optimize Minneapolis event. This small marketing tidbit was one of many presented at the official Optimize Minneapolis Launch Event held on Wednesday July 25th, at Aria at the Jeune Lune in Downtown Minneapolis.
Approximately 200 of the top Marketers and PR professionals in the Twin Cities attended the "evening on the lake" themed launch event. The main attraction was of course the presentation given by Lee Odden on "Optimizing Content for the Customer Journey" as well as the Q&A session that followed.
The evening opened with an elegant spread of fresh and light appetizers around a campfire themed setting. Those in attendance were encouraged to grab a beverage, mingle, and take a peak their complimentary copy of Optimize. Throughout the night guests were asked to share their Instagram photos under the event hashtag #OptimizeBook and the photos were printed and strung around the room as a memento that could be taken home.
After everyone had time to settle in and catch up with old friends or colleagues it was time for the main event. Mykl Roventine of Social Media Breakfast MSP was the official Master of Ceremonies and Emcee for the evening. After a solid introduction from Mykl, Lee Odden dove right in and did a fantastic job of sharing key concepts within his new book with the audience. So good in fact, that the Q&A session ran almost as long as his presentation.
Following the presentation was an opportunity for attendees to get their book signed by the author, and spend some more time networking. For an overview of the evening which includes Instagram images, tweets, and a photo gallery be sure to visit the TopRankBlog for an event wrap up post.
What Did the Attendees Have to Say About Optimize Minneapolis & What Did They Learn?
"What a first rate event! Swanky venue, delicious appetizers, fantastic presentation by @leeodden. Oh! And a book!#optimizebook" – Deanna Boss
"…as always, @leeodden was fabulous and #optimizebook is powerful stuff. We love it!" – Ed Heil
"Everything tonight was top notch. #OptimizeBook #JeuneLune." – Scott Johnson
"@LeeOdden - You've got to trend your engagement, build relationships, not every transaction is immediately trackable, or at all." said Minneapolis blogger @MerbearMN.
"Unique, specific, and focused content wins the day - @LeeOdden." shared Josh Braaten of Rasmussen.
"If you are making money on a marketing tactic, you should do it. If not, fix it or quit." - @leeodden #optimizebook." from Digital Strategist Greg Swan.
Optimize Minneapolis Corporate Sponsors
The Optimize Minneapolis Book Launch Corporate Sponsors included:
Acquisio: Performance media platform for agencies which helps companies buy, track, manage, optimize, retarget, and report on media across all channels.
Raven Tools: Online platform that helps users quickly research, manage, monitor and report on SEO, social media and other Internet marketing campaigns.
Trackur: Online reputation and social media monitoring tool designed to assist you in tracking what is said about you on the Internet.
Unbounce: Software that makes it easy for marketers to create, publish and test landing pages.
Digital People: Creative staffing partner that understands that your business' creative strategy, tight deadlines and last minute schedules.
Vocus: Provider of cloud-based marketing and PR software that helps businesses reach and influence buyers across social networks, online and through the media.
Praise for Optimize
"Content marketing has been a hot subject recently, but what good is your content if no one can find it? Odden takes a methodical and thorough approach to this important aspect of content marketing. Whether you're from an agency or a brand, you hold in your hands the playbook you'll need to run an effective program."
Scott Monty, Global Digital & Multimedia Communications Manager, Ford Motor Company
"Optimize is a manifesto for how to think about your business and your life in today's always on, always sharing world we live in, as well as a guide for putting practical social media and content marketing advice into action."
John Jantsch, author of Duct Tape Marketing and The Referral Engine
"Lee's no fly-by-night SEO and social media "guru", he's the real deal. He's always sought effective results and ROI for his clients, and always communicated his advice excellently through his blog and at conferences around the world. Now you hold that wisdom in your hands. Cherish it, adhere to it, and have fun implementing it!"
Mel Carson, Digital Marketing Evangelist, Microsoft Advertising
About The Author Lee Odden
Lee Odden is the author of Optimize and is also the CEO of TopRank Online Marketing, a digital marketing agency specializing in helping Fortune 1000 companies grow brand visibility and sales through online PR, search, social media, email and content marketing. He has been cited in the Wall Street Journal, The New York Times and Forbes for his expertise. He is also the editor of Online Marketing Blog, one of the most popular marketing blogs on the Internet.
For media inquiries please contact:
Ashley Zeckman
azeckman(at)toprankmarketing(dot)com
(952)400-0350
Company: http://www.TopRankMarketing.com
Blog: http://www.TopRankBlog.com
Book: http://OptimizeBook.com