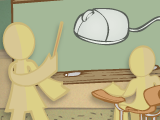 Raleigh, NC (PRWEB) August 04, 2012
Due to the significant need of beginner computer users to become familiar and comfortable with technology, GCFLearnFree.org recently added an interactive mouse tutorial to their popular Computer Basics course.
This interactive encourages learners to become more confident in using the mouse. Relying on the space bar to begin the tutorial, the six part interactive opens with a lesson in correctly holding the mouse. Lessons continue with learning to click, rolling over items, double clicking, and draging and dropping.
Learners repeat activities to practice skills and the real-life applications allow practice in an environment without consequences for mistakes. There are also entertaining scenarios that include dancing robots and swimming snails, which provide levity and humor.
GCFLearnFree.org's mouse tutorial is free and available to those users that have Adobe Flash Player downloaded onto their computer. The mouse tutorial can be found here: http://www.gcflearnfree.org/computers/module/14
GCFLearnFree.org
GCFLearnFree.org® creates and provides quality, innovative online learning opportunities to anyone who wants to improve the technology, literacy and math skills needed to be successful in both work and life. By delivering over 750 different lessons to millions of people in over 200 countries and territories ABSOLUTELY FREE, GCFLearnFree.org is a worldwide leader in online education.
GCFLearnFree.org is a program of Goodwill Industries of Eastern NC, Inc. All GCFLearnFree.org educational content is designed and produced in the GCF Global Learning® building in Downtown Raleigh, NC.